SAP Business One is a successful product of the Enterprise Resource Planning System who made by SAP Company. SAP is one of the world's leading software solution-providing companies. More than 200, million cloud users are SAP users. More than 22,700 partner companies are available in more than 140 countries around the world.
SAP Business One is one of the best ERP systems for startup businesses, small businesses, and subsidiaries of Large-scale companies. SAP Business One is a more affordable ERP system because it is integrated all core functions of a company into one system. Such as Financial Management, Sales, Customer Management, Purchasing and Inventory control, etc. Rich companies use ERP Sytems and control their workflow smoothly which went for their success.
With the help of the SAP Business One ERP system, the company is able to do their planning, decision-making, and monitoring to make a smooth workflow and better connection between entire departments. it creates an easy and comfortable with their work environment for both employees and employers. watch the video about SAP Business One Introduction from sap.com
What is SAP Business One?
Source: perfectbss.com
28 INDUSTRIES used by SAP Business One
SAP Business One has covered 28 industries. Those are in different kinds of fields and According to SAP they are categorized below
Energy and Natural Resource
Building Materials
Chemicals
Mill Products
Mining
Oil, Gas, and Energy
Utilities
Cargo Transportation and Logistics
Engineering, Construction, and Operations
Media
Passenger Travel and Leisure
Professional Services
Sports and Entertainment
Telecommunication
Defense and Security
Federal, National, and Central Government
Healthcare
Higher Education and Research
Regional, State, and Local Government
Aerospace and Defense
Automotive
High Tech
Industrial Manufacturing
Aerospace and Defense
Automotive
High Tech
Industrial Manufacturing
Banking
Insurance
8 core Features of SAP Business One
SAP Business One covered different key areas according to the below. Those features cover all the business requirements used by the above list of industries.
Financial Management
Sales and Customer Management
Purchasing and Inventory Control
Business Intelligence
Analytics and Reporting
Industry-Specific Capabilities
Mobility
In-Memory Platform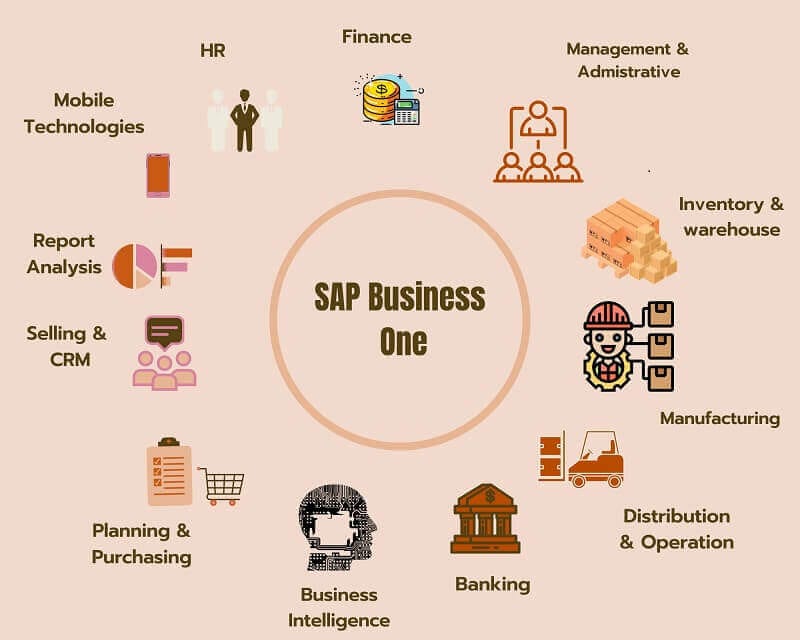 Financial Management
Financial Management is one of the most important and complex parts of the organization. SAP Business One is help to reduce errors, able to improve margins, then could make the most profitable and most suitable decisions for the company with the integrated financial management process. SAP Business One ERP System is able to integrate all the operational parts of the financial management process.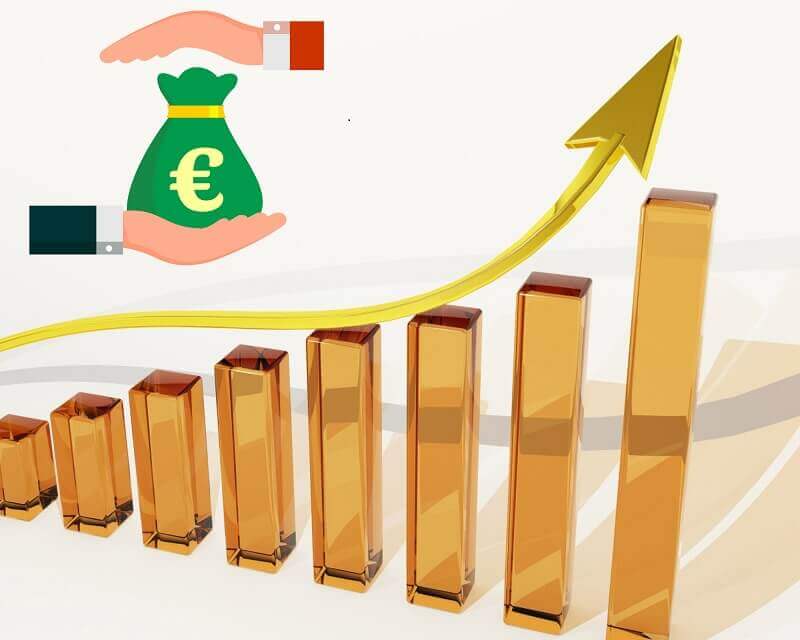 Let's explain how to help SAP Busine One for financial management function in detail.
Accounting: SAP Business One is an automated system for the accounting processes in the company. Manual bookkeeping accounts handling is the most difficult and complex part of financial management, with the expansion of the organization it will be a mess. To minimize manual bookkeeping part and accounting SAP Business One ERP system has been introduced to handle accounts in the ERP system such as Journal entries, accounts receivable and accounts payable and other accounts.
Controlling: Once you enter data into the SAP Business One ERP system, easy to manage cash inflows and outflows, tracking of fixed assets, control budgets, and accurate monitoring of project costs in an efficient manner.
Managing Fixed Asset: Fixes assets easily to manage without manual data entry, with the help of a virtual function in the SAP Business One ERP system.
Banking process and reconciliation: SAP Business One is able to process reconciliations and bank statements. And also speed the payment process by issuing checks, cash, and bank transfers.
Financial Report making and analyzing: For using real-time data to SAP Business One ERP system able to generate standard reports also customized reports. Business planning is easy with this and also data analysis is useful for the audited purpose of the company.
Sales and Customer management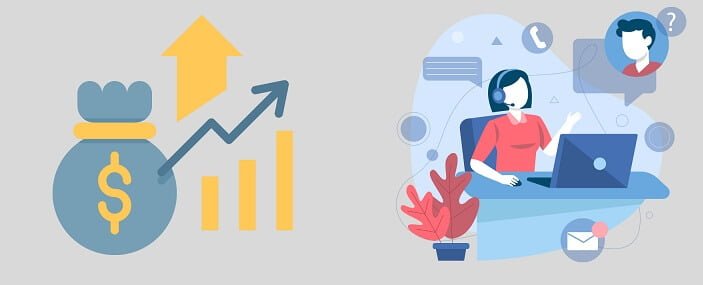 SAP Business One ERP system is able to connect all the sales processes in a company. From purchasing goods or initial contact with customers to the final sale of the product. After selling goods, support such as warranty regarding services and grievance handling of customers is more convenient to handle both the company and customers;
Let's explain, SAP Business One ERP System how helps Sales and Customer Management in detail.
Sales and opportunity management: SAP Business one ERP system is able to track the sales opportunities and lead activities in a sales cycle, from the initial contact to final sales.
Marketing campaign management: By using SAP Business One it is easy to manage, create, and analyze marketing tasks to enhance sales, and earn more profit.
Customer management: Critical Customer details stored in one place is more convenient for company management. SAP Business One ERP System is able to store important customer details in one place and synchronize customer contact details in Microsoft Outlook.
Service management: With the help of SAP Business One ERP system more comfortable to provide better services Such as warranty card services and agreement and supporting services etc. in an efficient manner. And also respond to customer service calls efficiently, so can take necessary actions in a short time period. Eventually, customer satisfaction with the service will increase.
Reporting and analysis: SAP Business One is able to generate detail-wise reports on the sales process. It starts with forecasting and pipeline tracking.
Mobile sales: Manage entire sales information in any place, anytime, and on any mobile device. SAP Business One sales mobile app able to use on iOS or Android systems. It is designed to focus on sales, and busy teams, move. That app manages sales leads, stock viewing, customer accounts, and order placement.
Purchasing and Inventory Control

Buying goods and services and Inventory management is the most important part of a company due to more inventory means more cost to the company, as well as company needs to supply goods according to demand. It very complex part of managing inventory. Keeping the right inventory level at the right time more difficult task for the company. SAP Business One is help to keep accurate inventory levels with well-managed purchasing processes according to customer demand and supply.
Procurement management: It is able to integrate the entire purchasing process of a company. Including requisition requests, purchase orders, and goods receipts generating and recording returns, and managing. SAP Business One is able to handle different currencies and can be viewing information trails. Then easy to improve audits with matching documents.
Master data management: SAP Business One centralized the entire purchasing process with data in an interface that is user-friendly. So, checking account balances and analyzing purchases, maintaining purchasing details and price lists with tax details is easy and fast.
Warehouse and accounting integration: With the advantage of real-time synchronization of goods receipts and inventory in the warehouse easily plan purchasing items and account payable invoices automatically from a goods receipt or purchase order.
Accounts payable: The cost of the supply chain relationship is low. Generating accounts payable invoices, cancellations of accounts payable, and credit memos with reference to purchase orders able to plan material ordering and scheduling purchasing.
Reporting: Create a report using real-time data and display it in different formats of reports or dashboards. To get the most suitable decision for an organization.
Business Intelligence

They are generating accurate reports based on real-time data collection of the company.
Report creation and customization: Collect the data from various sources, generating new reports it could be customized with existing reports in different layouts with minimum IT facilities.
Interactive analysis: SAP business one is integrated with Microsoft Excel functionalities.
Analytics with predefined metrics: Cash balance checking and sales performance viewing are easy by analyzing reports and Key performance indicators which is predefined.
Powerful data visualizations: Help to make a good decision by various reports with a powerful display.
Analytics and Reporting
To make employees smart and confident, faster decision-making by using entire critical information. And, that decision sharing quickly companywide.
Dashboards and reports: Most of the questions of employees are answered in the dashboard. It is more comfortable to track revenue, costs, cash flow, and performance. And managers can make decisions and take the action.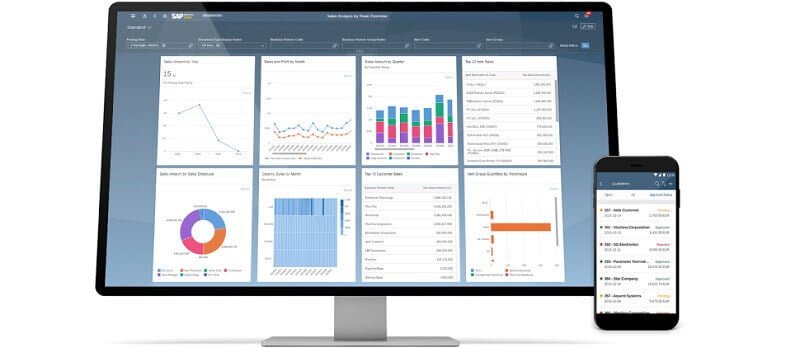 Industry-specific Capabilities
Using specific functionalities and design tools used for medium and small-size businesses.
Consumer products: When doing operations need to think of modern consumers. planning, demand management, and delivering goods need to do according to modern consumers.
Manufacturing: According to the customer demand needs to analyze customer requirements for manufacturing new products with lower supply chain cost, and speed earning of profit.
Professional services: Help to give reliable efficient service delivery by improving resource planning and managing project and billing.
Retail: For retail products consumers give information, and the opportunity to personalized experience what they want. Operation ends with a high level of customer satisfaction.
Wholesale distribution: Responding to customers and suppliers is an important factor for every business. Customers and suppliers demand a flexible manner with integrated processes. Developing the whole business process from start with planning and inventory, warehouse, and other parts of the supply chain.
According to the SAP Business One explanation, ERP systems are most preferred to use in Small Biz, Startup Biz, and Subsidiary of the large-scale groups. The scale of the business heavily affects the selection of your matching ERP system. In this case, SAP Business One ERP System 80% of companies are small and medium size companies
SAP Business One sucess strories
1. Whirlpool Corporation:
Whirlpool Corporation is a leading manufacturer of kitchen and laundry appliances. The corporation markets its portfolio of brands Whirlpool, KitchenAid, and Maytag.

User Comments
"Using SAP SuccessFactors solutions, we now have standardized HR processes 
 and data-driven insights across the globe, helping us achieve excellence
 in global talent planning and HR management"

Mark Morrissey
VP Global HR Operations, Whirlpool Corporation,
Source: sap.com
"HR digitalization was a key objective in our transformation to address 
 our work culture challenges. Our investment in the tools necessary to develop
 and engage our people was an important aspect enabling the execution of our business strategy"

Arun Serikar,
Director, Global HR Technology, Whirlpool Corporation, 
Source: sap.com
Innovation Computer is the USA's top company in the industry of computer hardware. It is distributing electronic consumer products for the US as well as the Asian markets. It has 50 years of industry experience. Their famous brands are Apple, TP-Link, Lenevo, LG, Sony, Dell, JBL, Microsoft, and more.

After the implementation of SAP Business One,
This company can manage its inventory with real-time data and in-stock prices with an e-commerce platform,
It enhances overall customer satisfaction enhancement.
Improved access to real-time data with Inventory and in-stock prices
Eliminated inefficiencies and action with SAP Business One.
Online ordering and warehouse management has automated.
Reporting is easy and simple with just one click.
The user-friendly interface e-commerce platform improved interconnectivity with third-party websites.
According to the above reasons ultimately profitability increases in the company
User Comment
"SAP Business One has definitely made Innovation Computers a much more profitable company, 
 because we're able to pinpoint losses and identify the challenges facing our organization. 
 I would say that it's been a great investment."

Felipe Giraldo,
VP Purchasing, Innovation Computers, source:sap.com
Ranking by software websites
GetApp
Score 4.2
Source: getapp.com
Capterra
Score 4.2
Source: capterra.com
Software Advice
Score 4.2
Source: softwareadvice.com
Gartner peer insights
Score 4.4
Source: gartner.com
Featured Customers
Score 4.4
Source: featuredcustomers.com
Software Connect
Score 4.4
Source: softwareconnect.com
TrustRadius
Score 4.2
Source: trustradius.com
Advantages of sap business one
User-friendly interfaces and Dashboards are available.
The easy payment process for suppliers and customers
The relationship map uses to identify the customer lifecycle from start to end
Data security is able in the SAP Business One system to Secure sensitive data of the company creating limitations among levels of the employee's SAP Business One is created with new technology it is assured high security of your company's data
Increasing efficiency of the organization by using SAP Business One-It is a company key function integrated system so no need to maintain data manually. Once enter the data into the system, authorized employees can see that in the company. So, the decision making is faster with that. And eliminate unnecessary manual work so time-saving.
Decision-making is easy and fast With the real-time data organization able to make more accurate decisions while employees can respond quickly. And, customer service after selling and customer returns, any kind of customer grievance handling are easy and fast. SAP Business One ERP system provides a decision-making facility to employees at their level.
Management is easy for the entire operation of the business-Due to SAP Business One it gives more information to decision-making and takes action for problems immediately.
The automatic Alert System helps your business which sending reminders and alerts are sending when occurring a problem.
How to buy SAP Business One?
For further information, you can watch a video Introduction to SAP Business One, created by SAP Business One's official youtube channel. Click on the below link,
Introduction to SAP Business One Video
If you have an idea about buying SAP Business One, Click the below link to the official website of sap.com and ask quotation
To learn more details you can request a demo from sap.com. Then you can buy SAP Business One, by connecting SAP company
Before implementing an ERP system into your business taking knowledge of technical Information regarding the ERP system is mandatory. Let's move on to the technical requirements of SAP Business One.
Technical Information of SAP Business One -Deployment options
SAP Business One has a mobile application called SAP Business One Sales. It supports smartphones and operating systems using iOS and Android. This app is suitable for busy sales teams outside of the workstation, they can easily access the company data through mobile phones at any time, anywhere.
Deployment Options
Hardware Requirements
Operating System
Conclusion
SAP Business One is most suitable for small and mid-size companies. Because SAP Business One has more features, entire operation functions including. Implementing an ERP system is a huge cost to the company. SAP Business One is available at an affordable price, it is better to use start a business also. When purchasing an ERP System for your company, you need to think about cost as well as more areas. When considering reviews and customer stories after implementation SAP Business One is overall it is highly recommended as the most popular ERP system and good ERP system around the world. You will help to choose the most suitable ERP system for your company by reading the below blog.
references