Elementor Pro is a WordPress plugin that is excellent page builder plugin that helps to build your exited website without knowing any piece of code. Elementor is one of the most people-used plugins all over the world. You just drag and drop the element, then elementor creates beautiful professional pages in a few minutes.
The best thing about elementor is there are a lot of free widgets available to make a basic website. But the incredible thing is their Pro version boosts your flow with great efficiency. Why am I say like that?
Elementor Pro comes up with nice features and a set of lightweight widgets. Those are helping to improve your site performance and speed up your workflow development. Other than their features elementor support other plugins to enhance your page functionalities and add a great page look.
Why do we need to go with elementor Pro vs free?
Elementor free version is fine to build your website with an amazing look and feel. But if you wish to build your website so quickly and easily then the best option is Elementor Pro. Other than that, there are bundles of builders, templates, widgets, features, and many more.
If you are a professional in web development, then a free version might be enough for your work. because you can develop pages using your front-end development knowledge. But still, you prefer to use Elementor Pro without any limitations. Because of elementor pro for everyone.
Nowadays most developers looking for a quick and fast development cycle. Elementor Pro features are tested by millions of developers and those who are already satisfied with the features they have. There is an Elementor Pro plan available according to your requirement and compared to the development time and the effort I have to say the cost of plans might not consider.
I'll next move on to pro features boosting on your website. Those are only on the Pro version and that enables you to build a complete website without activating other plugins on your website. You can refer elementor comparison and reference information end of the article.
Elementor Pro top 10 boosting Features
Below are the boosting features, we are going to discuss in this article those are given by elementor pro. Videos, images, and referral links may help you to get a complete understanding of elementor pro.
Theme Builder
Form Builder
Collection of Draggable Widgets
Third-Party Integrations
Custom CSS
Ready-Made Templates
Popup Builder
WooCommerce Builder
Share Buttons
Global Widgets
As an example, our website(Ennicode.com) was built using the above features including builders, templates, widgets, and a lot more.
1. Theme Builder
Elementor pro theme builder is the greatest and the fastest way of building your website. The theme is one of the most critical places to improve your site. Because it is not only for the appearance but also for the performance as well.
Elementor designed this tool to create your most valuable pages by Page Builder. Now you're no longer restricted to the theme limitation but you are free to visually design the below pages without knowing the code but it's later than Elementor Pro 2.0.
Archive Page
Single Posts
Posts Page
Header
Footer
Search Page
404 Page
WooCommerce
And all the parts on-site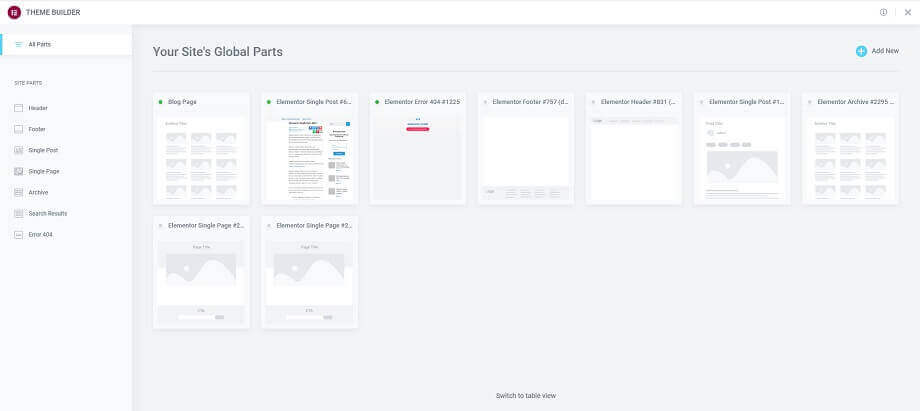 Elementor gives you an every-page summary in a single view. You can see what pages you developed and which of them are active visually. In the same view, you can go by each page and see an appearance in advance.
Theme Builder Overview
Elementor pro theme builder is able to design or modify any WordPress theme faster than before. If you would like to build a blog post page or WooCommerce product page on your site then This will enable you to create a single page and assign content dynamically. Below you can go through the elementor example of building your page with elementor pro.
Elementor Pro Header Footer
Elementor live drag and drop editor help you to design each page dynamically. Design can apply for specific page/pages according to the category, tags, or with some condition. The above example shows how to build a header and footer with Theme Builder and the below shows the development of a single post page by using Theme Builder
Elementor Pro Single Page
2. Form Builder
Form Builder is an even more important tool added to elementor pro. The form is the thing that websites engage with people. Form builder gives you a complete package of including form fields, integrating to third-party tools, collecting information, integrating emails, validation, and so on.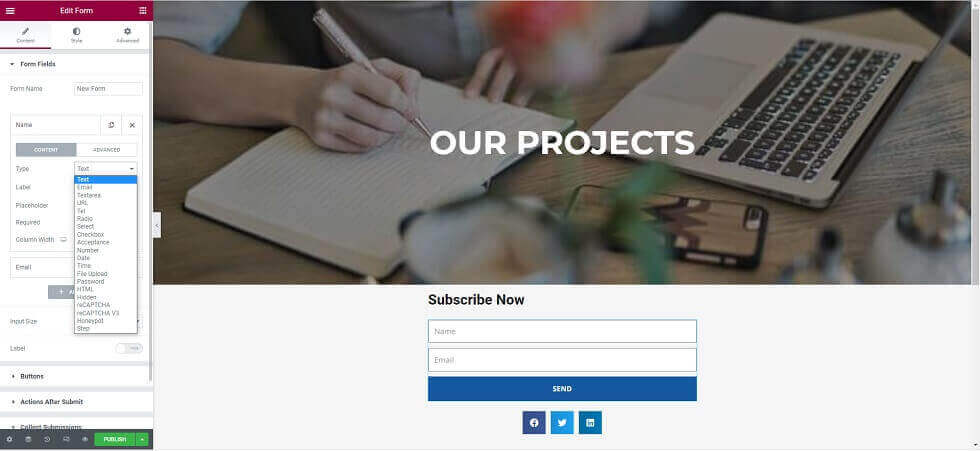 There is a 20 wide range of field types to choose from according to your preference. Then you can ask anything from your form. Also, Form Builder allows you to create single-step forms or multi-step forms for the long-form.
Text
Email
Textarea
URL
Tel
Radio
Select
Checkbox
Acceptance
Number
Date
Time
File Upload
Password
HTML
Hidden
Elementor Pro Form Builder
Forms are collecting information and you can view those submissions in the WordPress elementor tab. Not only that you can send email but also integrate another platform according to your requirement. I Here added a few of them over thousands of build-in integration.
MailOptin
GetResponse
MailChimp
Drip
ActiveCampaign,
ConvertKit,
HubSpot,
MailerLite,
MailPoet
3. Collection of Draggable Widgets
Widgets are one of the Elementor pro boosting features you can get by installing them. There are over 90 widgets in elementor including all free and pro widgets. Those widgets you can use in different locations like theme builder, direct page design, popups, forms, and so on.
Posts
Portfolio
Slides
Form
Login
Animated Headline
Price List
Price Table
Flip Box
Call to Action
Media Carousel
Testimonial Carousel
Reviews
Countdown
Share Buttons
Blockquote
Facebook-Button
Facebook Comments
Facebook Embed
Facebook Page
Template
Site Logo
Site Title
Page Title
Nav Menu
Search Form
Featured Image
Author Box
Post Comments
Post Navigation
Post Info
Products
WooCommerce
Breadcrumbs
Custom Add to Cart
WooCommerce Pages
Product Categories
Menu Cart
Lottie
Sitemap
Video Playlist
Cart
Progress Tracker
Post Title
PayPal Button
Checkout
Stripe Button
Code Highlight
Hotspot
My Account
Widgets are not only for beginners but any professional able to use those in a smart way. There are post-related widgets for amazing blog posts, WooCommerce widgets, price tables, login, and a lot more. Widget is divided into four categories like below and you will get those by taking at least a basic plan of elementor pro
Elementor Free Widgets
Free widgets are still enough still you able to build your website. But elementor pro gives you more advanced widgets for helping you to speed up processes and create more functionality.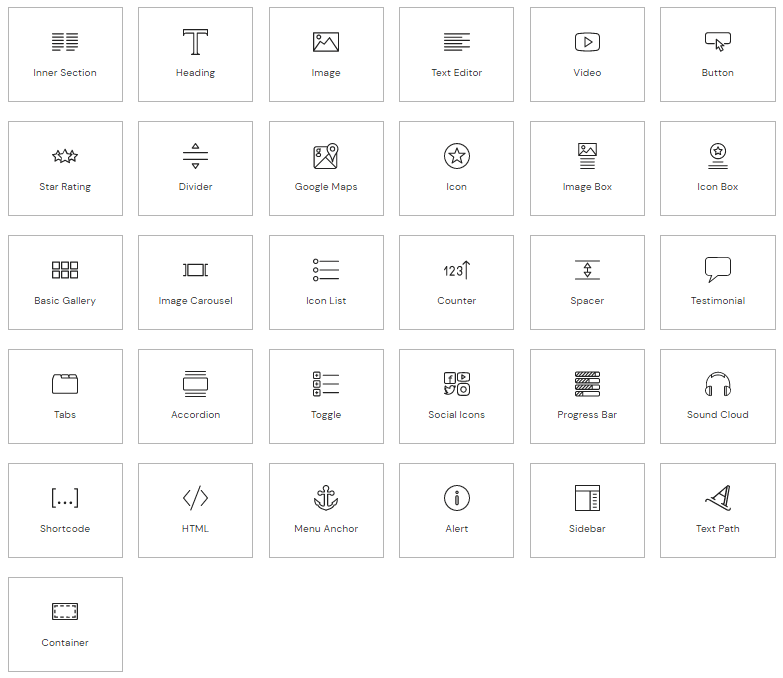 Elementor Pro Widgets
Upgrading to pro you will get more advanced feature widgets like share buttons, sliders, call to action, and many more.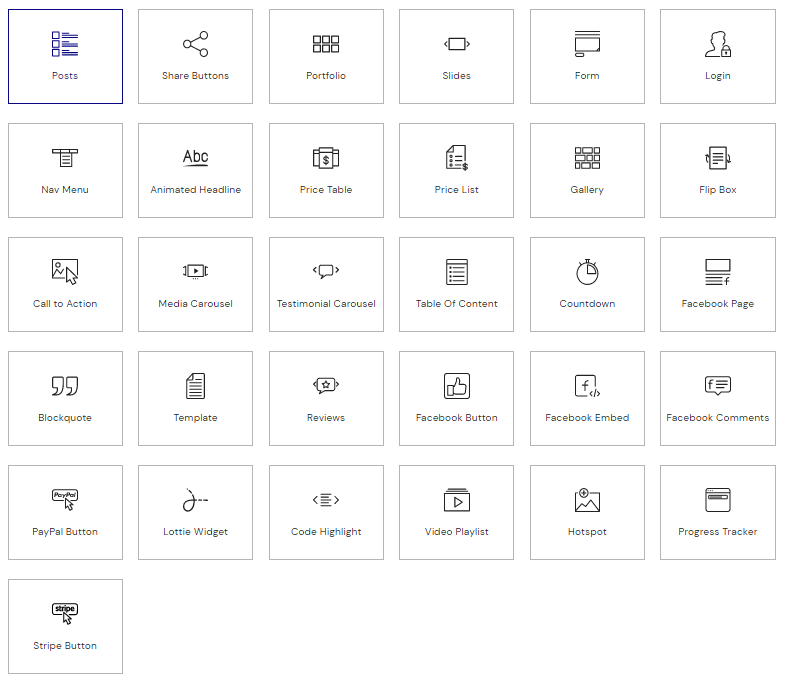 Theme Elements
Theme elements are focused on theme builder pages like Header, Footer, archives and as we describe in the Theme Builder section above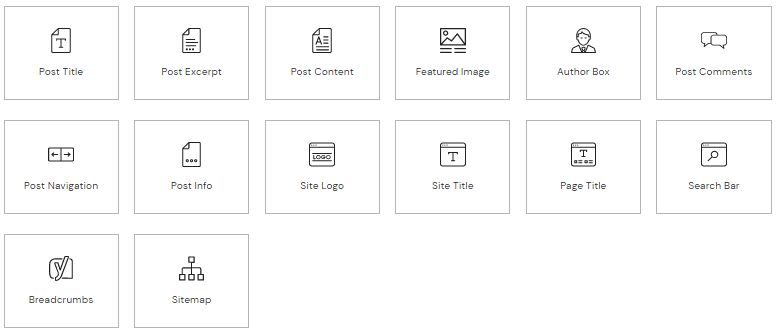 WooCommerce Widgets
Online shopping focused. There is a completely separate list of widgets help you to develop your shopping website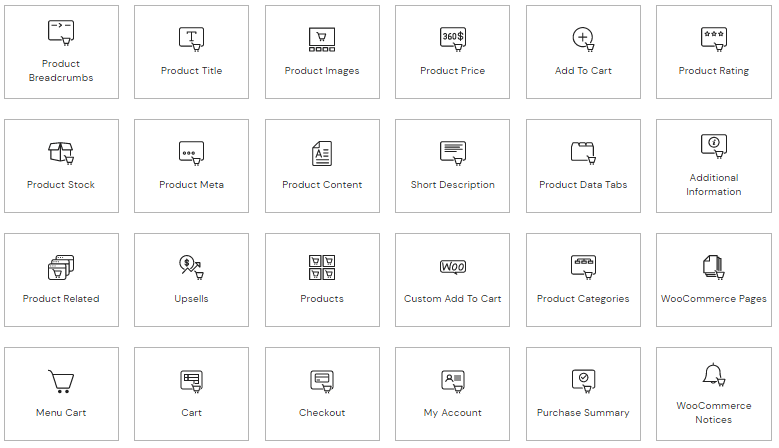 4. Elementor Pro Third-Party Integrations
Integration is a most considerable thing when you do marketing on your website. Emails are one of the great mediums when doing marketing. As I explain in the Form Builder section above those forms connect with popular email marketing services. There are elementor Pro in-built email tools and some other third-party tools listed below. Those are called once after they submit the form.
MailChimp
ActiveCampaign
ConvertKit
Campaign Monitor
HubSpot
Zapier
DonReach
Drip
GetResponse
Adobe Typekit
ReCAPTCHA
Facebook SDK
Slack
MailerLite
Discord
Honeypot
Mailchip With Elementor Pro
This example demonstrates the integration of mailchip with elementor pro. There is no need for any third-party plugin for this. But if you wish to integrate a third-party tool like Sendinblue still you can integrate it. first, install mailoptin plugin. Then in the same way in the above example, you can connect any of the email plugins (Sendinblue) with your form but only from elementor pro.
5. Custom CSS
This is the place where you can use your professional skills in CSS. Still why this is boosting your page? Because there are ways to add CSS to a website very easily on elementor pro without adding CSS files directly uploading to your web host. You can add CSS globally to a website and that will affect everywhere on your site.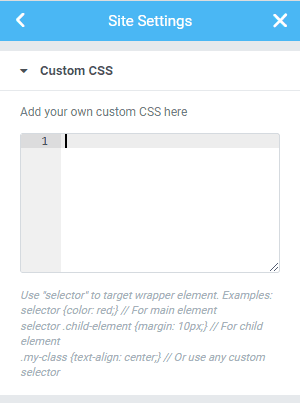 In another way, you can add CSS for a specific element. That will affect only the element you're now in and this will help to increase the uniqueness of your website. Also, this is the place for your custom CSS's that not available in elementor pro. This Custom CSS option support every element in the elementor.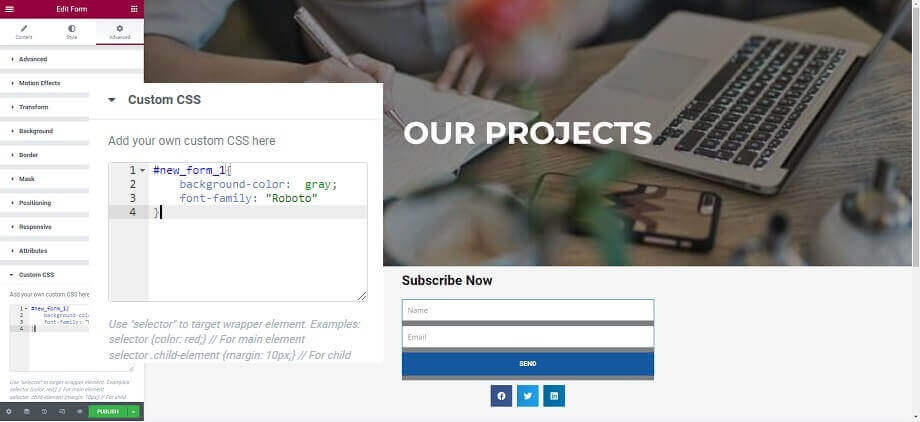 Example for adding custom CSS
6. Ready-Made Templates
Elementor's one of the objective is to build a wonderful website without doing the coding. If you know languages like CSS, PHP, and HTML that is helping to build your unique site. But still, you can build any type of page using elementor free and Pro Ready-Made Templates.
There are two ways to build your direct page or theme builder page. The first option is to start page development only using elementor widgets from scratch. The second option is to install one of the templates as your base page and do the modification on it. There are over 300 Ready-Made Templates by elementor for you.
Template Image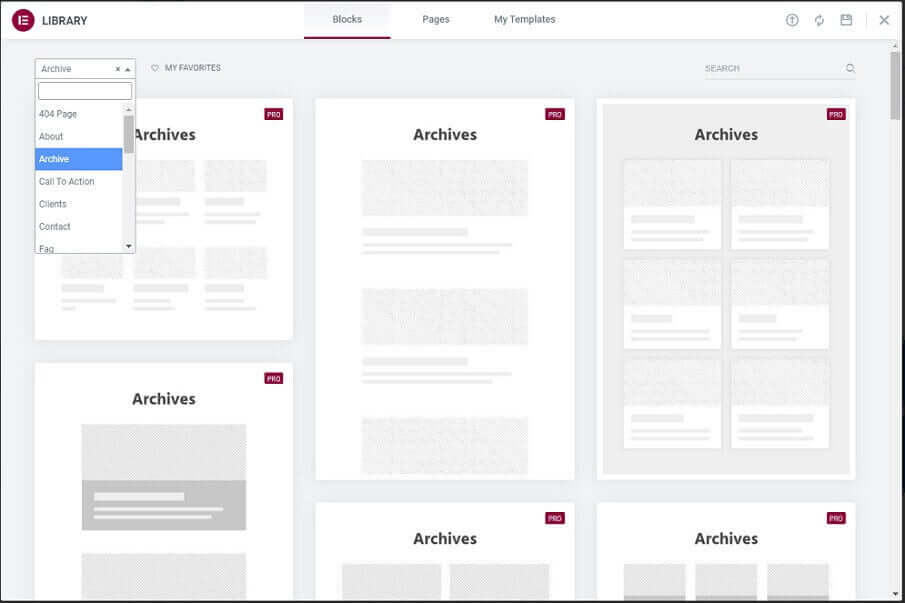 Once you move into the template library there are free and pro templates and blocks. You can unlock pro templates by installing the pro version as your WordPress builder. pro widgets integrate into Pro templates and pro blocks. If you want to add a new block to your page there are a lot of Ready-Made free and pro blocks available in the template library.
Elementor Blocks
There is a different types of blocks. According to elementor, those blocks boost your development life. There are over 250 blocks available according to the below categories.
Header
Services
Contacts
Price
Team
Testimonials
Portfolio / Gallery
Clients / Friends
About
Call to action
FAQ
Progress Bar
Countdown
Subscribe
Forms
Footer
Features
7. Popup Builder
Elementor popups come with very handy features on your business site. This feature unlocks only for pro users. This is enabled you to create beautiful popups without any coding. There are Ready-made templates for popups if you are a beginner at coding. But Popup builder helps anyone to create beautiful popups within a few minutes. There are some popups following below
Lead Capture
Email Subscription
Promotion/Sales
Welcome Back/Login
Content Lock
Exit Intent
Announcements
Welcome Mat
Related Products/Upsell
Elementor is able to build these types of popups according to your needs. Popups are not only for your needs, but they should open in handy. So Elementor supports the following condition once its opens
After x page views
When arriving from a certain URL
After x sessions
Show a popup on unlogged-in users only
When arriving search engines
Show on specific web browsers Show on specific device types (desktop, tablet, smartphone)
Not only are these features supported by elementor but you can handle the time it should be open. Below list of places support by elementor
On page load
On scroll
On scroll to an element
On click
After inactivity
On page exit intent
Popups can open at any time but then we must think about where it is going to open. In elementor, you can open it in four places as below.
Full Screen
Modal
Slide-In
Top / Bottom Bar
Popup Builder Overview
There are a lot of popups but here I added the most relevant topics on popups, but the design is yours. So, you can use your design skill if you like to build it from scratch. Even if you like to integrate third-party popups that is also possible with elementor pro.
Here I try to highlight how to boost your web design when you build your web page. Still, you can use pro widgets on your popups or forms in your popups. Thanks, Elementor pro for making it easy for us.
8. WooCommerce Builder
WooCommerce Builder is directed at e-commerce sites. If you are looking to sell your item from your website elementor provides this builder to build your e-commerce pages. Following pages, you can build through the builder.
Product Archive
Product
Menu-Cart
Cart
Checkout
Purchase Summary
My Account
As we discussed in above section 3 there are a set of widgets only for WooCommerce websites. This set of widgets enables you only if you enable the pro version as your plugin list. There are over 20 widgets to boost your design and workflow.
WooCommerce Builder Basics
9. Share Buttons
If you are thinking about interaction on your website, then the first pinpoint is to share on social media. Because millions of people on social media visit their profiles regularly. Elementor provides a widget call share button on the elementor pro version.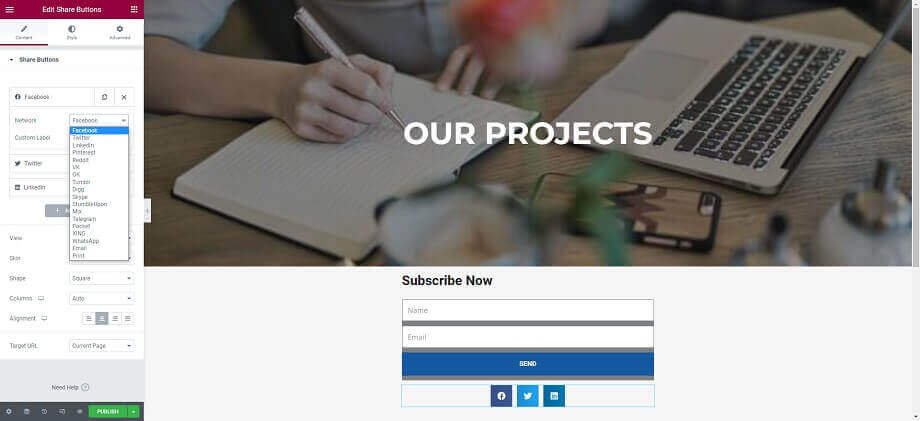 Elementor has over 17 built-in social icons in its icon list. You don't need to worry about advanced programming, but these icons publish your post by connecting with referring media.
This is boosting not only building your website but also marketing your website on social media. Below is an example of social icons.
Facebook
Twitter
LinkedIn
WhatsApp
How to Use Elementor Social Icon
10. Global Widgets
Elementor pro how to boost your workflow by Global Widgets? This is simple but very useful. Because most of the time we create a similar type of blocks in several places, but it duplicates time. Elementor pro added features like a global widget for saving your block as a global widget.
Once you after save as a global widget you are able to use it in any place where you need it. The widget is able to modify in a single location but changes apply to all other places as well. This saves time because otherwise, you must start the same thing in several places from scratch.
How to use Global Widget
Summary On Elementor PRO
Elementor is one of the great plugins I ever used. The free version of elementor is excellent for your development but even if you using the pro version then definitely it is boosting your website workflow. Elementor is for everyone whether your beginner or a professional. This is making our developer life easy.
Elementor pro provides different types of packages according to your wish. For personal use, the ESSENTIAL package is more than enough. Other than this EXPERT, ADVANCED, STUDIO, and AGENCY plans for business purposes.
Now you can look for your requirements and think about the weather and which options suit you. I try to summarize the most critical boosting option here, but this is not the end. There are a lot with elementor pro. You can buy elementor pro by clicking the below button.
Landing Page:
https://be.elementor.com/visit/?bta=65215&nci=5383
References