Container Tracking software is doing a major role in the shipping industry. Here we are going to identify the most used and top software solutions for container tracking.
Container tracking is more trending task in the international container shipping industry. Because all the users of containers like to know the place and event of their container during the transportation process. By using software or web application you can check your shipment's location and also the stage of the transportation and clearance process at the port as well as the during shipment process. Next, we will discuss reasons for container tracking.
you can read more details in container tracking here
In the shipping process, incurring there are so many delays. Such as port congestion, customs declaration process delays, and weather conditions also make delays in voyages, when transporting goods by truck may be delayed due to many reasons. In supply chain management you have to face many challenges regarding the shipping process. There are more unexpected delays are occurring during transportation. If you can track your container it may sight easy to get an idea of your shipment arrival time for your warehouse.
With the help of the container tracking process, you can get ready for the clearance process and payment process early. So you can avoid unnecessary delays at ports and terminals, container freight stations, warehouses, etc.
in a supply, chain shipping process may incur a lot of costs. Some costs are necessary and also other costs can be avoided. As demurrage charges and detention can be avoided due to the right time of shipment clearance. So container tracing system helps to avoid unnecessary costs related to shipping.
As a supplier, you can arrange the export documentation and origin point of transportation at the right time with the tracking system notifications.
As a customer or consignee, you can arrange the shipment booking and import clearance documents and other payments at right time without any delays. And also you can arrange the inland transportation service to a warehouse at the correct time. Then you can inform your the correct time of goods arrival to your customer without any confusion. It will improve your customer satisfaction.
As a freight forwarding company, you may also get many advantages when using container tracking systems. you can enhance your customers' satisfaction with the real-time information provided with regard to their shipment. Automatic notification facility is avoid unnecessary time-consuming.
Likewise, all the parties involved in the international shipping industry can get more benefits from container tracking. So it plays an important task in a supply chain.
you can read more details in container tracking here
In simple words, we can say "container tracking software" is an application developed to track the container's location and event stage of transportation during the shipping and transportation process. Let's we will discuss the importance of container tracking software.
Eliminate the labor time consuming for the traditional method of following up the shipment by many telephone calls and other ways.
If there is an inaccurate detail showing on the shipping line's website you have to face problems.
Delays and disruptions in the shipment clearing process have increased the cost of the supply chain and logistics.
If you are not capable to provide accurate information to customers you will lose your due to low customer satisfaction
Real-time container or shipment tracking is very important to supply chain professionals due to they can manage and plan their supply chain activities efficiently.
Container tracking systems provide real-time information with timely updates in different stages of your shipment transportation it is useful to plan your clearance process and logistics activities with money allocation for your shipment.
Real-time shipment tracking software is providing information such as container stored port name, live location, status updates, and exact delivery time updates.
for freight forwarding business
centralized your container status into one place
reduce costs
reduce human errors by automating the process.
by receiving event alerts -get customized notifications regarding vessel delays, last free days, and more.
Saving time due to avoiding a manual task
you can read more details in container tracking here
Now you have a clear idea and better knowledge of container tracking and container tracking software. Then you can easily choose the right container or shipment tracking software for your shipment or business. Next, we will discuss famous and top users of container tracking software. Definitely, it will help you to select the right shipment tracking software to you.
70+ Shipping lines can track
1300 + Customers
2.5 Million-Tracked shipments
More than 90- different countries
Key features of shipsgo container tracking software
notifications-Automated notifications send to shipment owners and logistics, freight forwarders companies
live position– real-time location can be identified
integration-Tracking software can be integrated with the company's other software .such as ERP system, WMS(warehouse management system), etc.
what are the carriers support shipsGo to track?
More than 90 shipping lines support to shipsgo tracking system
How to track my shipment by shipsGo software?
Go to shipsGo homepage
Select the carrier of the shipment
Container number or booking number or Bill of lading(BL) number
Click the button "track shipment"
You need to create an account then you can get notifications about your container or shipment easily.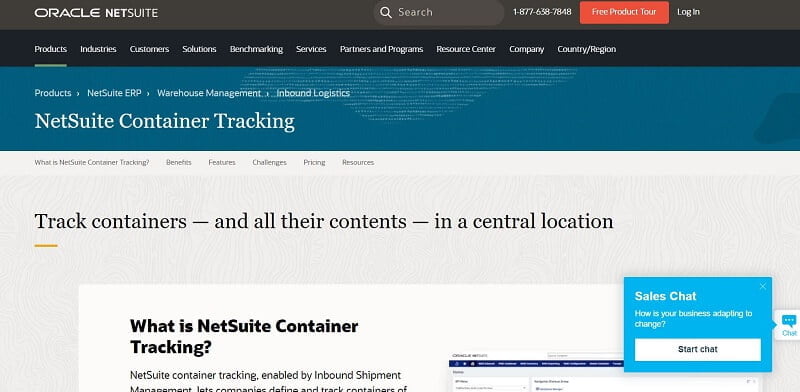 This software has been developed by the oracle netsuite company. Container tracking is offered as a fracture of the Netsuite Warehouse management system. It can be integrated with NetSuite ERP system.
Netsuite container tracking is can be used inbound logistics in shipment management. it can track the container from the supplier to the destination point of the consignee. Inbound logistics details can be tracked through the NetSuite container tracking software. Such as details of expected delivery dates, items in the shipment, and quantity.
Key Features of the Netsuite Container Tracking
Inbound shipment record
Status updates
Container Receiving
Landed cost management
What are the challenges solved by Netsuite Container Tracking
Lack of visibility
Manual receiving process
Tracking many transit orders
Applying landed cost
Benefits of Netsuite Container Tracking
Centralized container tracking system
Updates and receive real-time information
Land cost calculations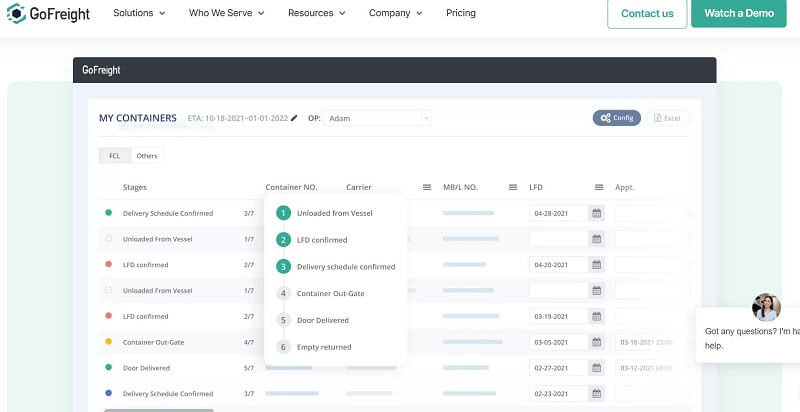 4,728,826: container tracking in 2021
Benefits to freight forwarders and importers/exporters
Increase the container management capacity
Reduce detention and demurrage chargers
Eliminate manual work and human errors
General Benefits of GoFreight
eliminate manual tasks by automating
avoiding demurrage and detention chargers by sending real-time details by an automated process
increase customer satisfaction by giving authority to check their shipment tracking service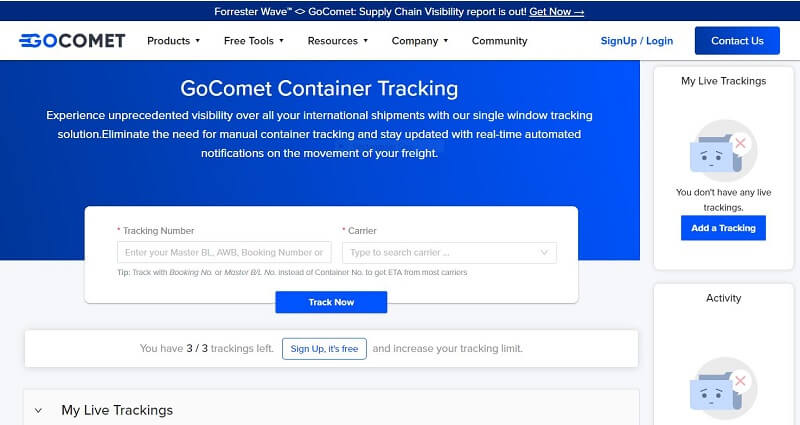 About the GOCOMET company, Gocomet is a leading multimodal logistics software solution providing company in the world.
$ 26.16 billion: worth of cargo moved
$ 654 Million: worth of freight booked
327,075: containers moved
$41 Million: Total savings
It is an online tracking system
Cloud-based solution.
Send automated updates.
The multi-modal tracking system, you can track your shipment through different modes.
For tracking your shipment need your shipment Master B/L number, AWB(airway bill number), or Booking number. And carrier name.
Why do you need to select GoComet container tracking software?
No need to do manual tracking for logistics teams-auto updating real-time data to your customers
Automated updates to shipment owner's email and mobile phones
Improving customer relationships and customer satisfaction by providing real-time updates
Support to a lot of carriers in different modes(Air, ocean, Courier, NVOCC, Road)
Ranking,
Customer can track their shipment from the release of the supplier's warehouse to the consignee's warehouse. all the processes and stages can be tracked in your shipment and know the location and updates.
Logistics updates:
Can track your containers by entering the container number in VISCO there is an option called "automatic updates", then logistics track allows it to be automated.
For getting general details of a container, updates consist of below,
Bill of lading number
Inland origin
Origin port
Inland destination
Destination port
Booking number
Milestone tracking
This type of update includes actual timeline updates of the container
This type consists of below details,
Type, status, location, mode of transport, container event has been updated, etc.
Automatic alerts
When updating logistics data and container events, the system identifies issues and problems in a supply chain, then the system sends alerts to logistics users and directly to customers automatically. The automatic alert included shipping and arrival time,if it is late it also mentions
Live look
When clicking on "live look", the user can see the map of the container movement in real-time.
Supported carrier list here
Key Features of Magaya container tracking software
Real-time visibility
Integrated with live track
Boost efficiency
Support to more than 100 carriers
Container tracking – related videos
References
Related post you may also like to read,
What Is Container Tracking: Everything You Need To Know
Warehouse Management & Warehouse Management System: Everything you need to know
Do you know the Secrets of cargo containerization in 2023?
Top 6 NVOCC Software(Non-Vessel Operating Common Carrier) New In 2023