TripAdvisor provides you to get a marvelous experience with a high-comfort journey at a low cost. Simply TripAdvisor can be defined as a website that provides guidance to travelers. As the name of TripAdvisor, that website gives you the advice to encourage your trip full of happiness and enjoyable trip at reasonable prices according to your choice and budget, It makes feel you happy.
When hearing the word "trip", you will feel collections of feelings with remarkable memories. Positive feelings such as happiness, enjoyment, curiosity, comfortable. On another hand, the worse experience is time wasting, uncomfortable traveling and staying and so many worst experiences of previous trips. The most important thing is you are seeking something different and new experiences during travel time.
Ranking by
google play- 4.5 (1.42Mn reviews)
apps.apple.com-4.7 (3.2k reviews)
g2.com-4,7(3k reviews)
trustpilot.com-2.8 (3k reviews)
glassdoor.com-3.7 (1k reviews)
What is TripAdvisor?
Every trip has a specific purpose it may be a business purpose or personal mind relaxation with a new experience with nature or some activities. Travelers' ultimate purpose is happiness and relaxation of the mind and making sweet memories forever. If you have a better experience on a trip in the past you can enjoy your memories forever. Everyone likes to have a nice journey with unforgettable experiences.
As a traveler, you can make a better travel experience with the Tripadvisor app while going around the world. Because the Tripadvisor app integrated with travelers' passion for the place. Hence you are planning to trip as well as on the way, you can search for places and activities you can enjoy. Before going to the place you can enjoy a virtual tour with millions of reviews by travelers who have before visited that place. It makes it easy to plan a better trip while time and cost-saving.
Why do most people like TripAdvisor?
Next, we will explain why you need to use the TripAdvisor website
Free cancellation facility
Low price with the best experience
Available Reviews and rating
Provide travel guidance
Ranking and Ratings
You can book all travel planning at one app-Booking hotels to stay, activities need to do, tours and other things can book with a free cancellation option
Ensure travel safety
Make guidance to other travelers by writing a review regarding your travel experience
Features of the TripAdvisor App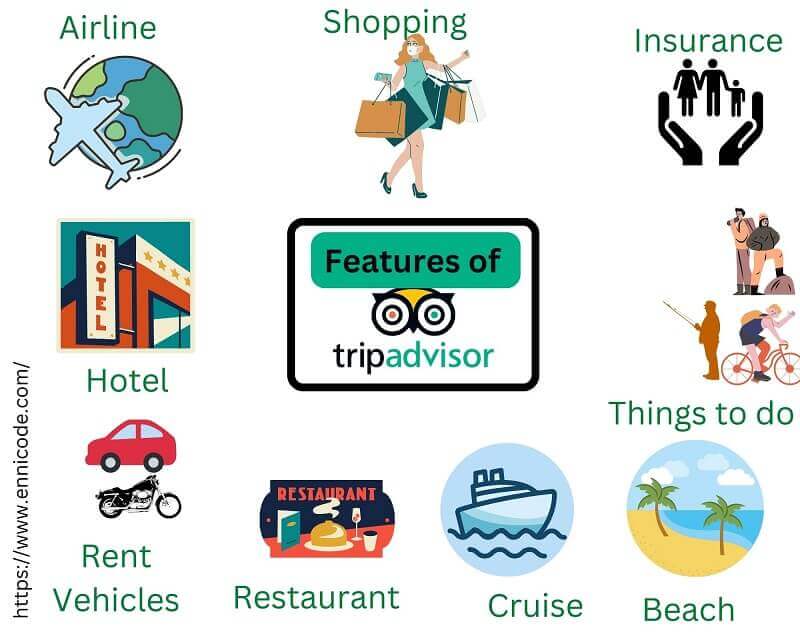 Things to Do
Hotels
Flight
Restaurants
Vacation rentals
Vacation packages
Cruise
Rental Car
Shopping
Airlines
Insurance
Travel forum
Beaches
Destinations
Who are the TripAdvisor's Main Partners?
Suppliers and vendors
Hospitality and booking partners
Connectivity partners
Strategic and alliance
What are the Revenue Generations Methods of Tripadvisor?
Tripadvisors mainly generate revenue through online travel and booking.
advertising revenue by click base and display base
subscription, transactional-based, and other revenue
How to Cancel Tripadvisor Booking?
If you want to cancel your booking you can do it up to one day before the activity that you have selected. Before the cancel the booking, you must read the terms and conditions section with the cancellation policy for relevance. You can follow the below steps to cancel your booking,
open your booking page
Find out the booking which you need to cancel or adjust
On the right side of the page, you will appear links where you can print or view your ticket, you can change the date or cancel the relevant booking
You need to click on the cancel Booking link
Now you can see the price you have already paid and the refund amount before the cancellation.
After confirming cancellation need to click on cancel booking
After the cancellation request is completed, receive a confirmation email from you
Please note that the cancel Booking option is not available if your activity or tour is mentioned as Nonrefundable, then your reservation can not be changed or canceled.
Sourced by tripadvisor.com, find more on click here
What does TripAdvisor do?
Tripadvisor is the largest travel guide providing website. It can use by both travelers and businessmen. It is providing travel-related facilities mentioned below,
Accommodation booking
Travel booking-cruise, flight, car, other
Booking travel related activities-Things to do when you are in traveling you can to travel related activities also can be booked on a travel advisor
Package holidays
Travel forums
Reviews for hotels, restaurants, shops, and other places that are generated by past visit users
TripAdvisor has millions of reviews for hotels, shops, and other places written by past users. And also Tripadvisor website page views millions of people around the world.
How to find the right hotel for you Through Tripadvisor, soured by tripadvisor.com
If you are a traveler, you can get help for your next trip. And also are you a tourism sector businessman or hotel, shop, or restaurant owner you can join Tripadvisor to market your business to a large number of visitors from all around the world.
What benefits of TripAdvisor?
As a business owner, you can get the advantage of Tripadvisor. It can show your business to travelers globally, it is the main advantage for the tourism sector business.
The TripAdvisor website shows your business to the world
Promote your business brand
Make the opportunity to engage with customers
Listing business on the TripAdvisor website is free
With TripAdvisor, you can prove your business quality and how you are different from other competitors, and how your service quality
How to plan and book on the way of TripAdvisor. soured by tripadvisor.com
Why TripAdvisor is important to your business? /Hotel?
Traveler reviews are most important to the tourism and hospitality industry. Because it is providing intangible services before buying the services, Most travelers take time to read reviews of the properties as well as rankings before the booking is done. With the rankings and reviews of the past 5travellers people can take an idea of the place or activity, Before the experience, that traveler can enjoy a virtual journey with reviews. If it is a nice journey, he will definitely come to your place for a visit.
1. More than advertising people trust another traveler's experience
As a website, Tripadvisor is different from others. The main reason that Tripadvisor is not only advertising or marketing gives chance to mention reviews as a real experience have before, but trip planner also has the opportunity to read millions of reviews at millions of places.
2. Getting a competitive advantage for your business helps the Number of reviews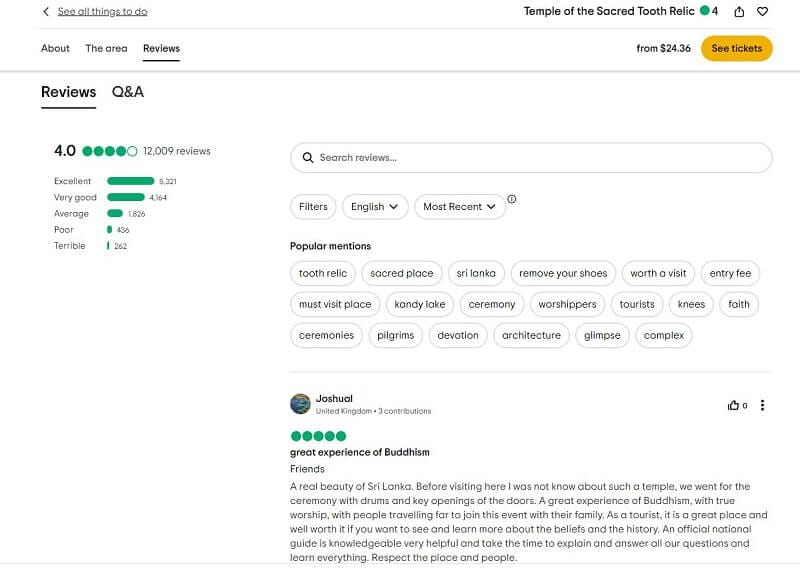 Good quality reviews make you a higher ranking for your business. The ranking is trusted traveler and it is the most attractive and eye-sensitive way to catch up with customers
3. Negative reviews are more powerful than positive
When reading reviews by travelers if there is a negative review, he is interested in reading it, and also it is heart touching, so definitely negative reviews make a negative impact on your business or hotel. So negative reviews are more critical and they can break your business.
4. TripAdvisor reviews have a more powerful impact on your business reputation
Rankings and reviews are the most important factor to your reputation in the industry, it shows hospitality and treaty ways to your guests, so it is necessary to give feedback to reviews and welcome negative reviews also.
Nowadays the first impression of the travel place is reviews of previous travelers before the visit, so it makes a good or bad impression on reviews and rankings.
5. Reviews are open to the public forever
Tripadvisor website is an online platform business that you post to the internet it is last forever.so reviews are in forever. It is good for positive reviews. And also it is a disadvantage to you because of bad reviews.
6. TripAdvisor is a tool for free marketing
Nowadays businesses used to spend more money on marketing their brands, With using TripAdvisor you can save marketing expenses while reaching global customers as a free marketing option. Rankings are very important. it makes your business position up and down.
What is TripAdvisor plus?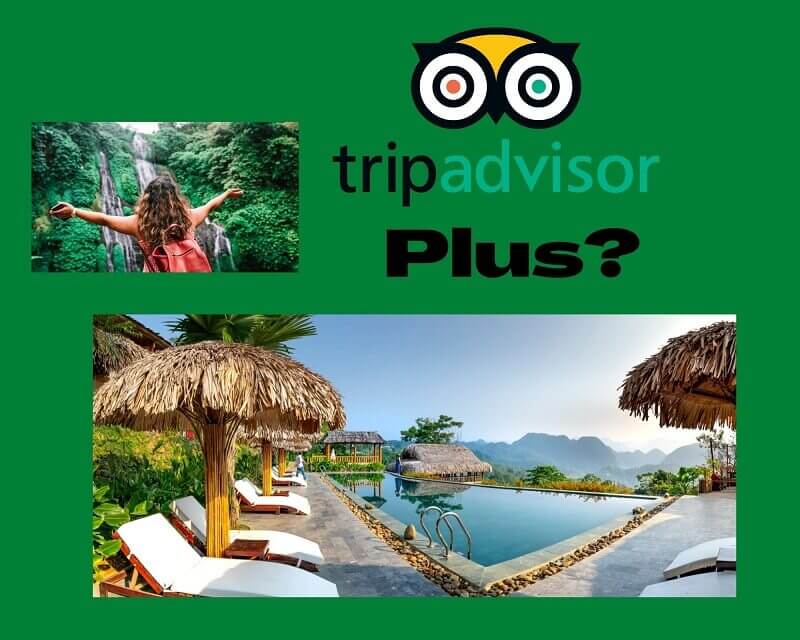 It is a subscription service offered by TripAdvisor, It needs to pay subscription fees annually. Then members can enjoy exclusive discount prices on hotels and free gifts or extras upon arrival. TripAdvisor Plus is targeting the market segment of frequent travelers of regular users of Tripadvisor.
TripAdvisor Plus allows direct participation from hotels. TripAdvisor does not get a commission on any bookings. In addition to that hotels can market their visibility through Tripadvisor.
Joining TripAdvisor Plus is totally free, with no previous cost. Tripadvisor Plus members can enjoy faculties offering discounts on other facilities according to the TripAdvisor Plus program terms and conditions guidelines.
When occupancy levels change TripAdvisor Plus is Offering flexibility to change discounting or cancel membership at any time.
You can see more information about TripAdvisor Plus program guidelines here.
How does TripAdvisor Plus your business come under a win-win situation?
Tripadvisor Plus is promoting your business while giving additional benefits to you
High-value booking gives high profit to your business
Maximize demand of guests and give more value to customers
You can join totally free, with no upfront cost
Build a strong customer relationship with your business
High-intent customers reach your business and they are booking done in advance while they spend more time with you ultimately spending a lot, It means you can get more gain from the TripAdvisor Plus program.
Can make a strong customer relationship, because you can communicate with customers directly and provide unforgettable experience according to their choice, It makes the customer come back to your business, Satisficed customer means an asset to your business meanwhile they promote your brand automatically by positive review, it will generate good rank among the competitors. However, ranking is most important to sustain your business higher ranking attract more customers your business is boosted without any marketing campaigns and advertising cost. This is a good opportunity to grow your business with free promotion.
Is there any type of hotel included in TripAdvisor plus service?
Tripadvisors Plus partners give access to a range of business types such as,
Small independent properties
Hotel chains
Resorts
City center properties
And other properties.
What are the TripAdvisor plus properties Selection criteria?
Based on location
Ranking
Connectivity compatibility
How will TripAdvisor plus service add benefits to your business?
This is an easy way to attract ready-to-book travelers from all around the world.
There is a booking solution type called first on its, it will enhance searching visibility in your area.
When considering higher organic search results of your business it will add to the special badge. it will benefit get a competitive advantage for your business meanwhile booking amount will automatically increase without any other promotional activities.
What are the Key Requirements for Hotels to join TripAdvisor Plus?
Free to join TripAdvisor Plus at no upfront cost
According to Tripadvisor Plus guidelines, hotels should agree to provide better service with discount packages with minimum rates and other perks for TripAdvisor Plus members.
Participated hotels need to pay a fixed commission rate to the TripAdvisor company for all bookings made with TripAdvisor.
TripAdvisor Plus rewards and funded provide to members when their check in by TripAdvisor. Then need to provide services for a special offering of perks. For example free breakfast, welcome gift, and room upgrade.
Available connectivity options for participating in Tripadvisor plus
TripAdvisor has created partnerships with world-leading hotel technology providers. While thousands of hotels are enabling TripAdvisor plus has participated.
Click here to see the current TripAdvisor plus partners list all around the world. Among thousands of connectivity partners below images shows some of the brand logos of Trp advisor partners.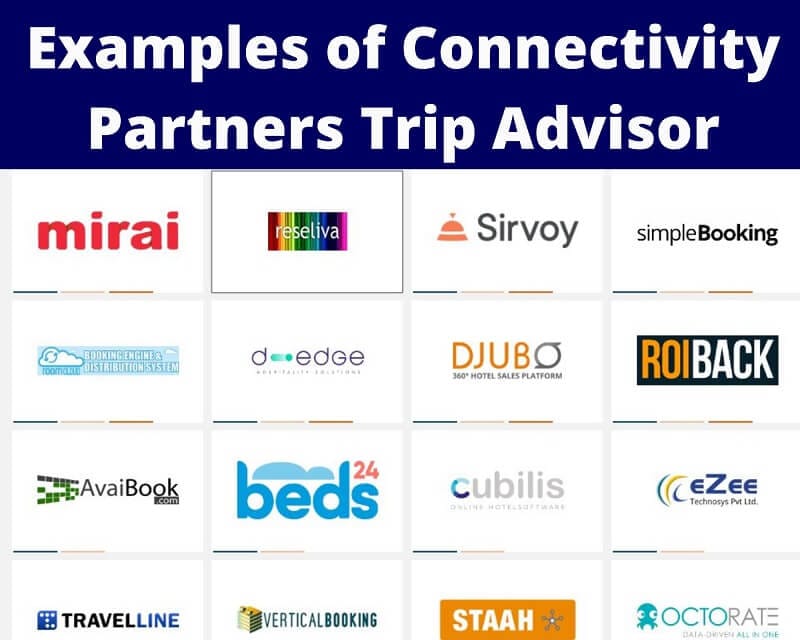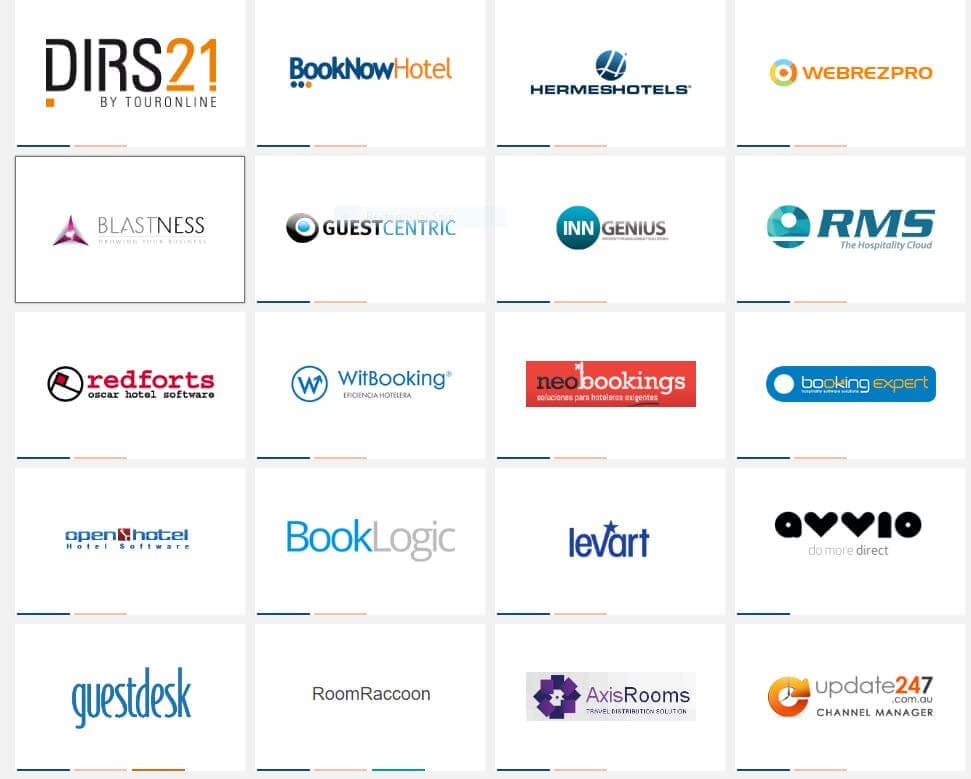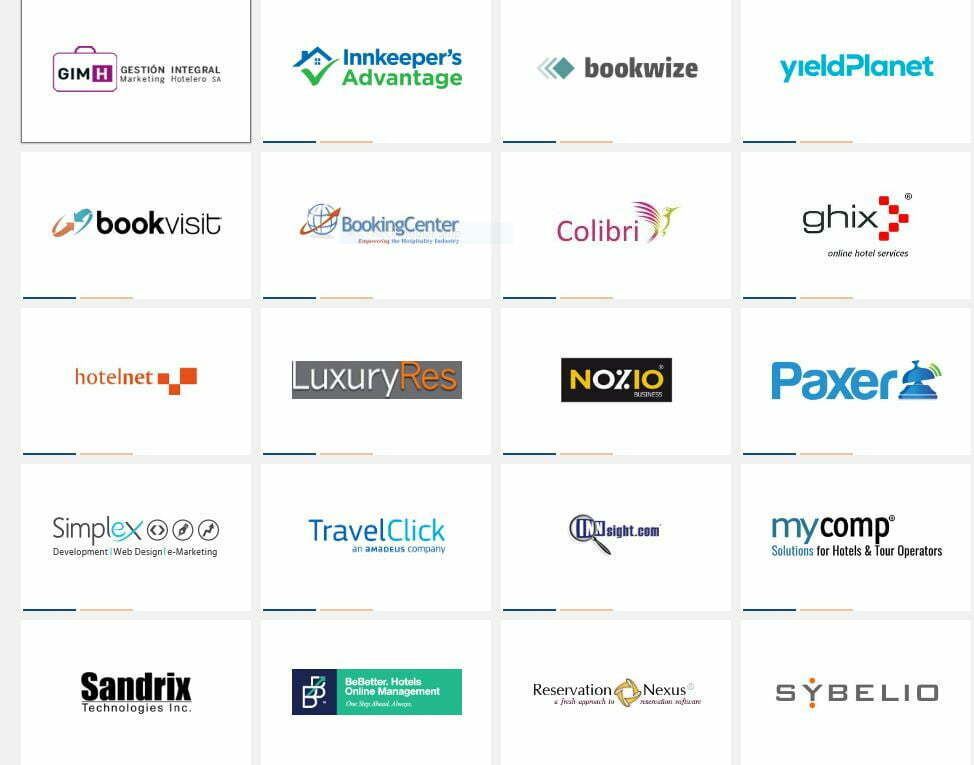 There are separate topics for travelers and business owners on the Tripadvisor website's help center
Travelers Topics
TripAdvisor Plus
Manage my booking
Community & messages
My TripAdvisor account
Managing your reviews and photos
Making a booking
Payments
Refunds & cancellations
Help with sign in
Topics for Business owners
Managing your business listing
Growing your business
Managing reviews & responses
Business segments of TripAdvisor
There are 4 main business segments on TripAdvisor. They are as below,
Hotel-online hotel booking and cancellation
Attraction-search attractive places and things to do
Vacation Rental-places find for vacation rental basis, online booking
Restaurant -online and mobile reservation
Above we have discussed the business segments of TripAdvisor. Next, explain that customer segments
Tripadvisor Customer Segment
General consumers-travelers, professionals and individuals, families, business travelers other groups
Advertisers-travel for commercial purposes for branding, brand markers, advertising agencies, advertising firms, advertising teams, hospitality brands
Property owners-property owners and managers rent their properties during holidays
Tripadvisor is a global business. Therefore TripAdvisor is operating localized versions of Tripadvisor in more than 46 countries worldwide in 28 different languages.
TripAdvisor is more value provides to customers as below,
It is a world-famous travel guide. So, TripAdvisor has a good reputation.
TripAdvisor is a community and user-driven software application.
It is a global business so, global reach
Technology and innovation
Accessibility and flexibility
Affiliate and marketing partners
Who are the TripAdvisor's Main Partners?
Suppliers and vendors
Hospitality and booking partners
Connectivity partners
Strategic and alliance
What are the Revenue Generations Methods of Tripadvisor?
Tripadvisors mainly generate revenue through online travel and booking.
advertising revenue by click base and display base
subscription, transactional-based, and other revenue
CONCLUSION
TripAdvisor is a leading Travel guide website. It is not only a website nowadays it has become a large network of businesses such as hotels, resorts, individual property owners, restaurants, activity providers, travel guides, and also many others who provide hospitality and tourism service provides. Transport service providers also included tripping advisor business networks.
So, it is an easy way to plan your trip with travelers. a large number of options available for travelers. Millions of customer reviews and rankings help to select a better experience for travelers while businesses who join as connectivity partners boost their profit and goodwill as a free marketing tool.
Finally, I would like to say Tripadvisor is an excellent website for both travelers and connectivity partners, They all are in a win-win situation. Because they all can win their purpose by connecting with TripAdvisor.
References