SendInBlue is one of the great tools for email marketing for one who wants to do the marketing using email, SMS, and chat. This is more reliable for small and medium-sized businesses that need to improve their customer base rapidly. Here I'm going to explain their features, Sendinblue pricing, Sendinblue reviews, Sendinblue alternative, Sendinblue login, Prons, and cons, and compare them with other similar email marketing tools. SendInBlue is started in 2012 but they have over 300000 users all over the world. Let's move on to features by Sendinblue.
SendinBlue's Most Important Features
SendinBlue: Email Marketing
Sendinblue drag-and-drop builder creates professional emails without much knowledge of design templates. Also, there are built-in templates available for reuse if you are interested in that.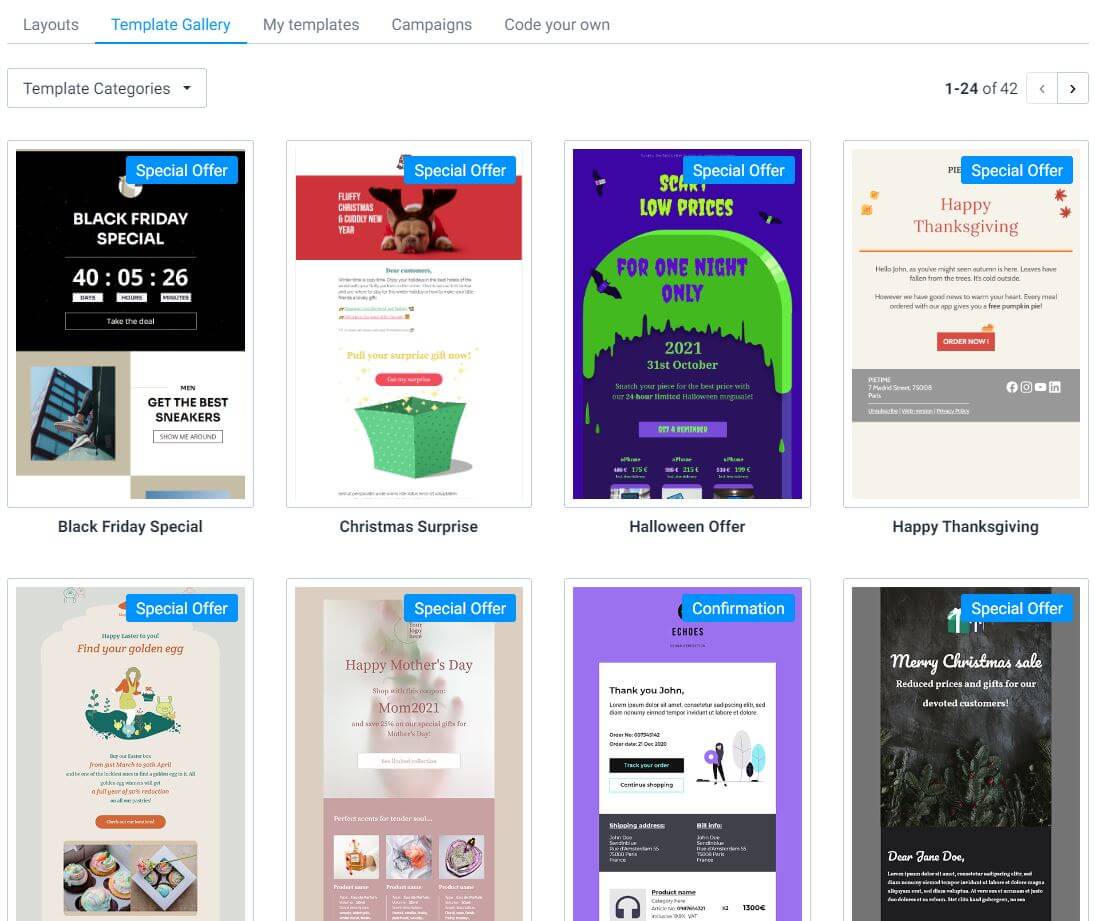 The dynamic content generator creates personalized emails according to the format of the design. That's helping to build dynamic content on the email like recipient name, email, and contact no's also if you're working on WordPress then WordPress post content can be attached if required. This is creating more attractive emails that support WordPress post notifications.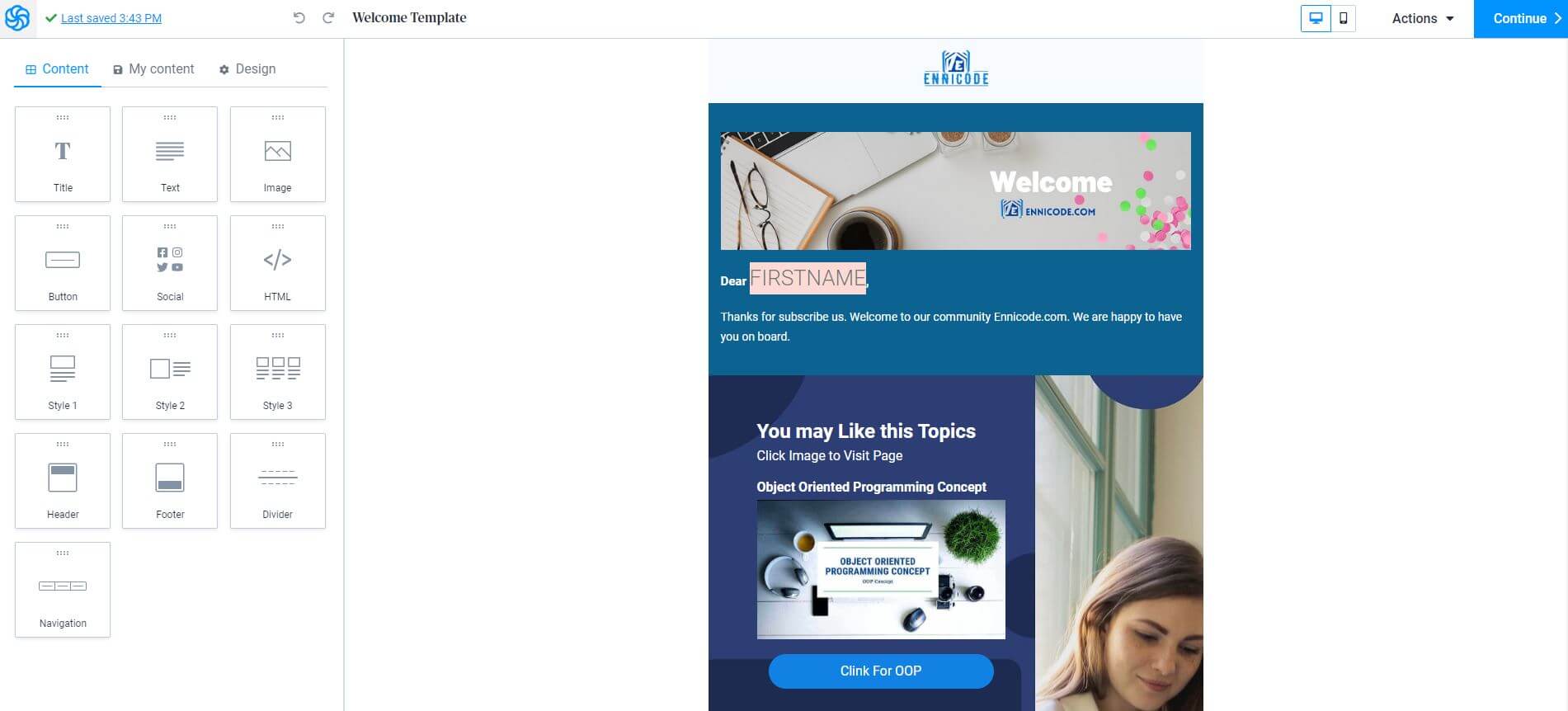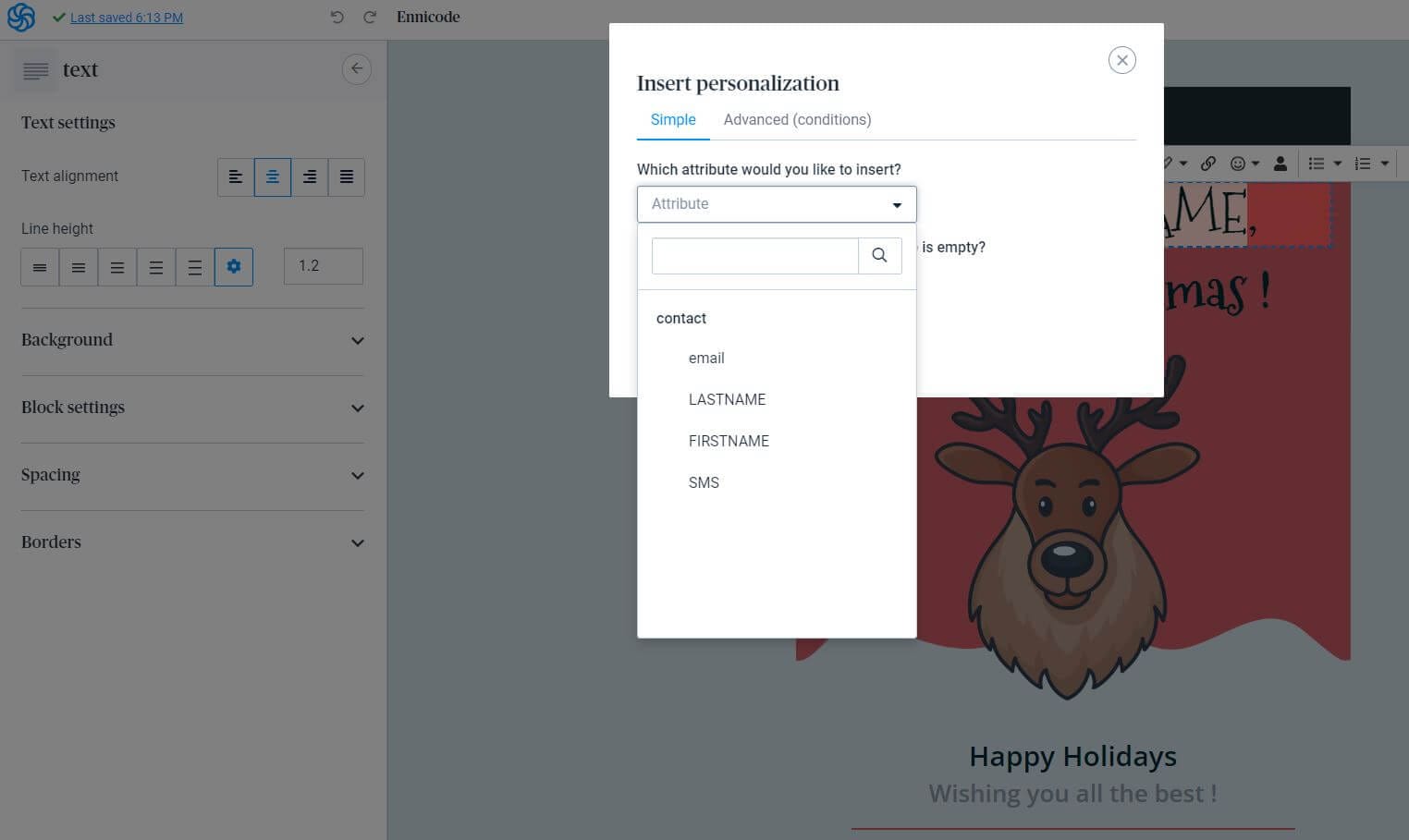 Recipients are gathered by Sendinblue itself. Those contact lists are used as the recipient in each email. Collecting emails and the contact come under the CRM feature below.
Email sending is the most effective work here. They use A/B Testing and take the most effective time for the best performance. This is very intelligent with Sendinblue which makes you professional in digital marketing.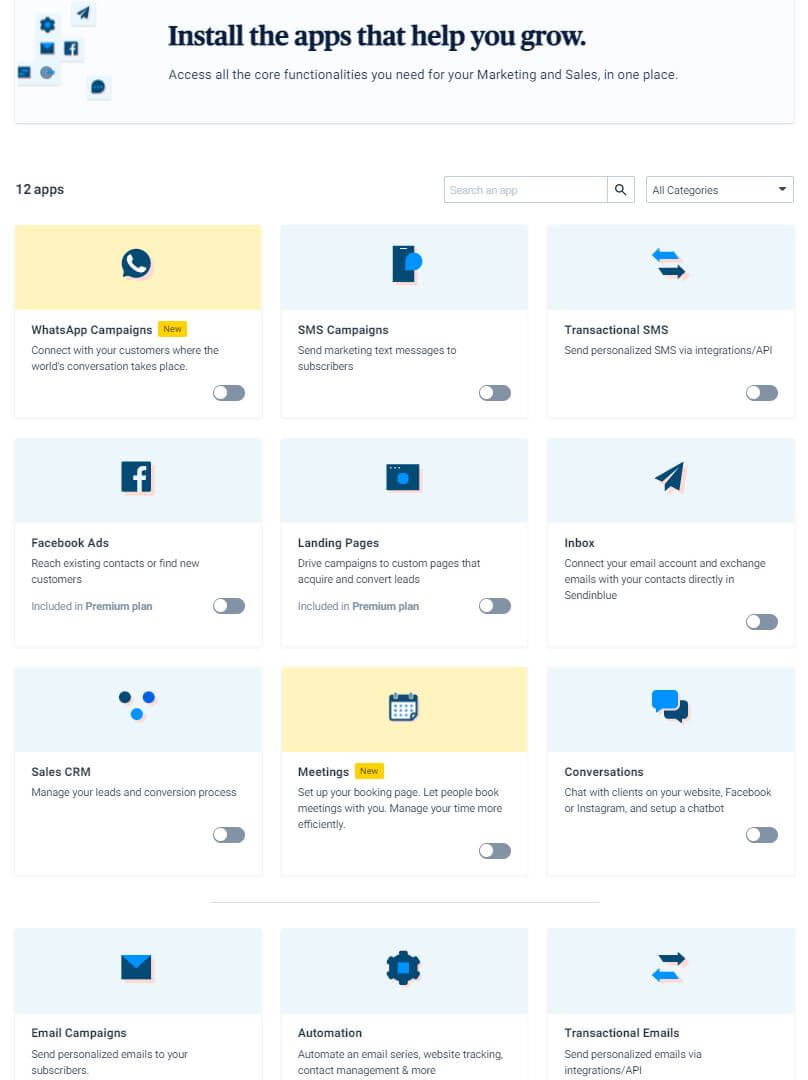 SendinBlue: SMS Marketing
This is also similar when configuring things but use to promote things quickly through personalized messages. contact no stored by the CRM process.
SendinBlue: Chat
Sendinblue chat system allows you to create connections in real-time with your clients. This is also customizable according to your site's theme colors.
SendinBlue: CRM
If you looking for a Customer Relationship Management (CRM) system then Sendinblue provides sales CRM from the free version itself. Here able to save all the contact information and follow-ups. Collecting contact can be done through your website or if you have contacts, then you can import them to your Sendinblue account as well.

SendinBlue: Marketing Automation
Automation is the most important thing if you looking to increase your customer base. Keeping relationships with customers is more important because most of the customers do not come to your place more than they usually do. Therefore, keeping them updated with your business and alerting them to think about your business is important.
Sendinblue Automation gives the ability to create workflows easily with drag and drop editor. You can easily create welcome emails; birthday wishes and coupon codes as a result of workflow. This is incredible because it's a one-time effort that automates your problem if one reaches your conditions in the workflow.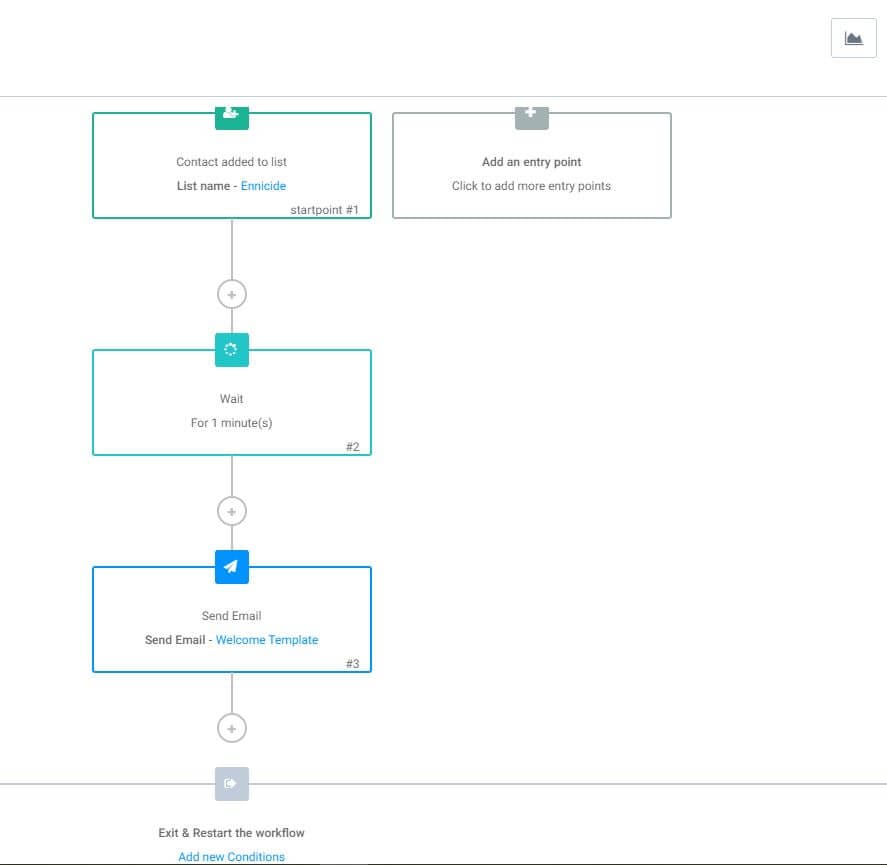 SendinBlue: Transactional Email
According to Sendinblue, This is about straight-to-deliver emails into inboxes with a 97% of deliverability percentage. Deliverable is essential because missing emails equals missing business.
SendinBlue: Other Features
The below are features used to take the whole idea about what's going on with your marketing. it is impress drawbacks and success points about your campaigns and automation. Its graphical and real-time reports use real-time statistical data. This may help to think about the next step and keep doing the good work regularly.
Open & Click-through Reports
Email Heat Map
A/B Testing
Real-time Statistics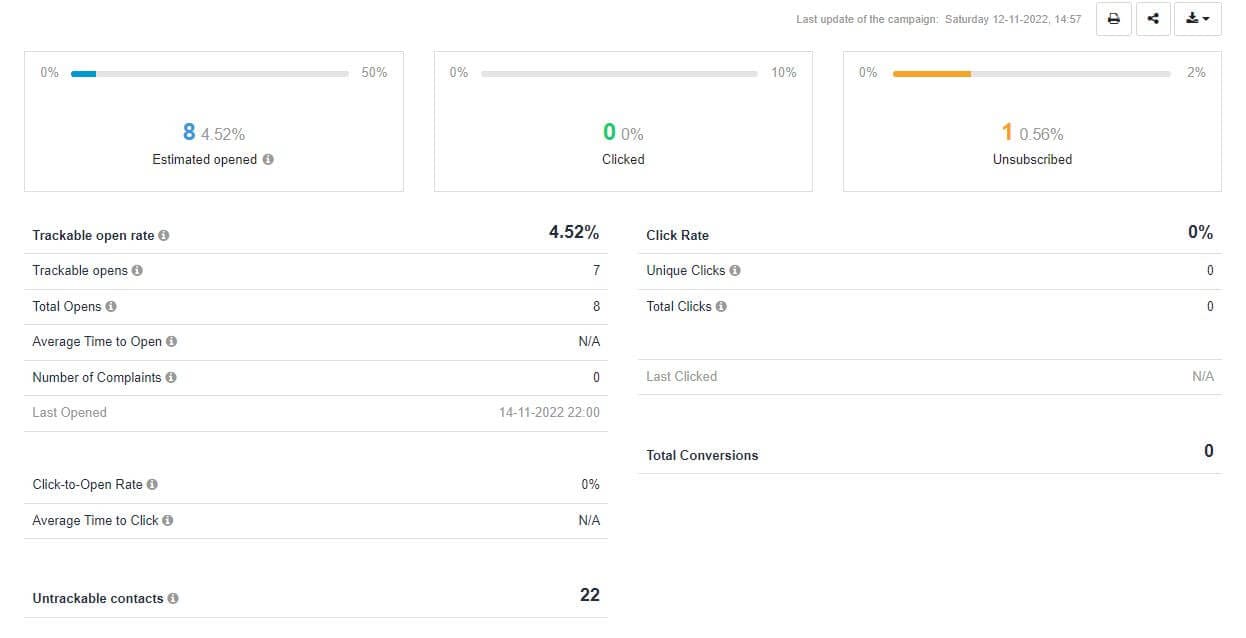 Sendinblue Integrations
Integration Sendinblue into other systems is not hard. It's possible with an API key or by plugging into your system. Below are some integration WordPress used by elementor, elementor pro, wpform, and as a direct connection. There are more than that you can see the other integration by clicking each plugin on their site.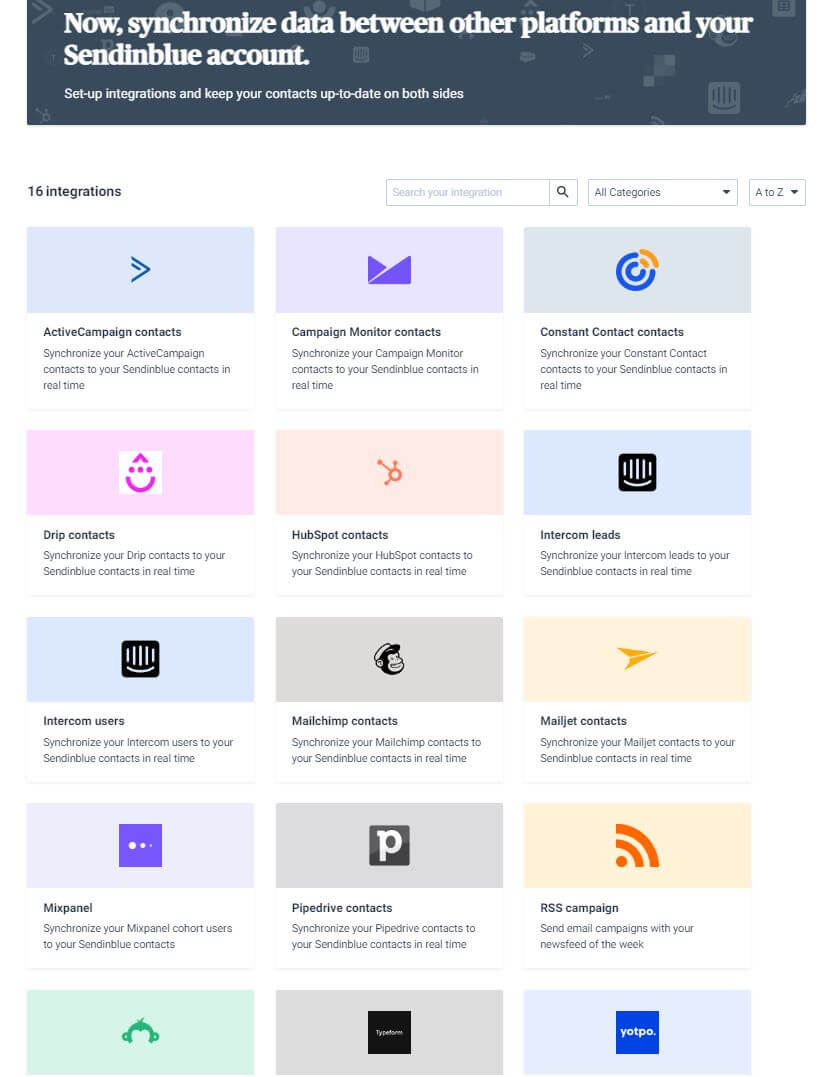 Sendinblue Connect with WordPress free
Connecting Sendinblue to WordPress is not a huge thing. But it is depending on why you need it and the purpose of using it. Also, it is changed with the plugins you already installed in WordPress. Sendinblue can be used as CRM for your site or subscription purpose. Anyway, you have to connect Sendinblue directly into WordPress or with middleware like Elementor, MailOptin, WPforms
Sendinblue connects with WordPress through Elementor Free
Elementor is one of the top content-building tools for WordPress. If you are new to elementor you can visit our elementor post. The video describes how to connect Sendinblue to WordPress. If you are using the free version in elementor and there is a small introduction from Sendinblue
Sendinblue Connects with WordPress through Elementor Pro
Elementor Pro is a great way of building a website in a few minutes. There are more gadgets for web development that make it easy. The form builder is for building forms by elementor pro and this enables us to connect Sendinblue through MailOptin. Watch this if you use elementor pro as your web builder.
Sendinblue connects with WordPress through WPforms
Wpforms is another great form-building plugin for WordPress. There is a way to connect Sendinblue through the WPforms as well. Here showing how to integrate with your Sendinblue account.
Sendinblue Reviews
Sendinblue is the leading Digital Marketing tool in the world and there are good results in reviewing companies like Trustpilot, G2, and Capterra. When coming to Sendinblue it is an all-in-one digital marketing tool. Its become one of the famous digital marketing tools for free but there are paid versions that are good value for your money. By looking at the below ratings you can decide whether as a whole how it helps with your business if you have any doubts or and willing to buy Sendinblue you can go through the required links by clicking the company name itself.
User Reviews
Sendinblue Pricing
One of the most attractive things here is Sendinblue price. Here we are normally looking at the price for the size of a contact list. But Sendinblue price is not the way we usually look at. it packages divided by no of emails you're looking to send per day. For the free plan, you have 300 mail per day without losing any value. That means it's 9000 emails per month. It's a huge advantage by Sendinblue may not get from any other digital marketing tool.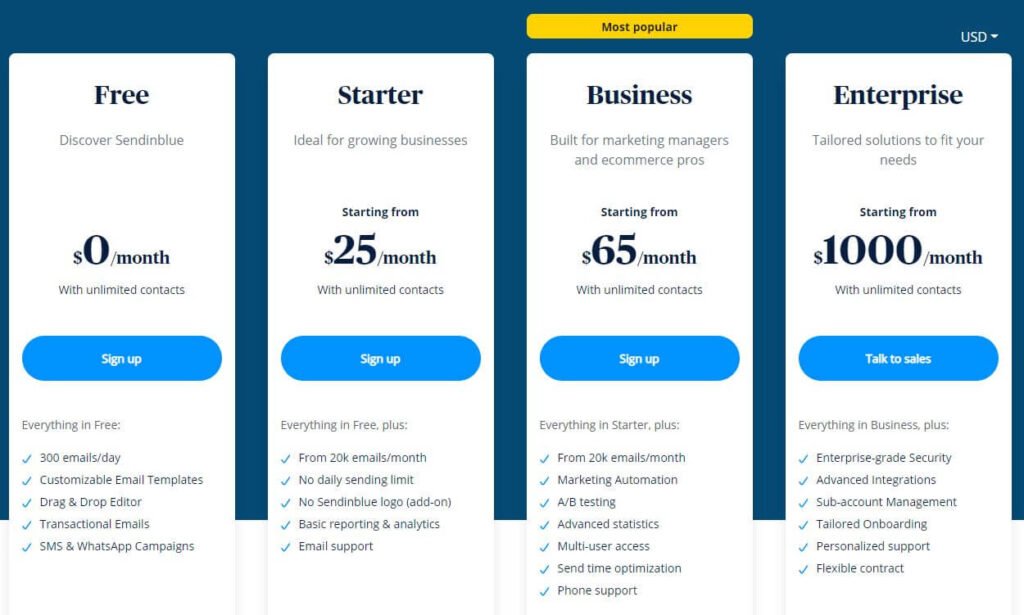 Before moving into the price list if your beginner at email marketing then you have to realize you will get campaigns, build workflow, templates, Automation, and many more with a free plan. So, I hope this is a great opportunity to start up your business with digital marketing with Sendinblue. Just try to create an account and try a trial with your website.
This is the basic price plan you can find in Sendinblue. But if you like you can customize the price according to your requirement to some level.
Is Sendinblue FREE?
Sendinblue is free but it's limited. For startups, Sendinblue is more than enough. As I mention above you have 9000 emails per month. And you can do the campaigns, build workflows, use free templates for emails, and Automate emails and messages. If you are on a blog site, you are able to automate notifications once you publish. Also, You can send welcome emails to once who subscribe to your website.
I here listed some of the features to answer the question is Sendinblue free? I think No need to explain much by looking at the list when you get it free
Marketing Automation
Email Campaigns
Drag & Drop Editor
Email Template Gallery
SMS Marketing
Email & SMS Personalization
Advanced templating language
WhatsApp Campaigns
No daily sending limit (300 emails/day)
Workflow editor
Sendinblue Login
Sendinblue Creating an account is not hard. Just create a free account without credit card information. Once you completed accounting then easily log in with your credentials. Or if you have a google or apple account then just use them. Sendinblue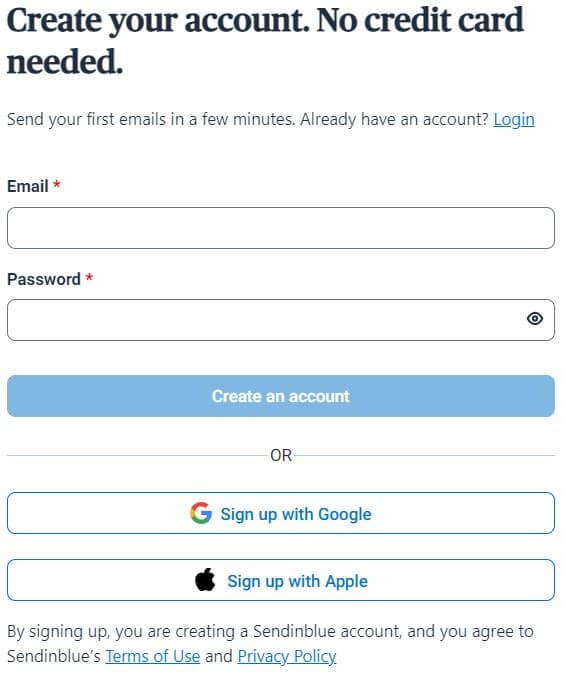 Sendinblue Alternatives
Sendinblue is a trending all-in-one digital marketing software for the latest features with a considerable fair amount. But there are many alternatives with the same features, but the cost may be high. But for your information, I'll add some of them here.
Small Business email marketing tools with similar features like Sendinblue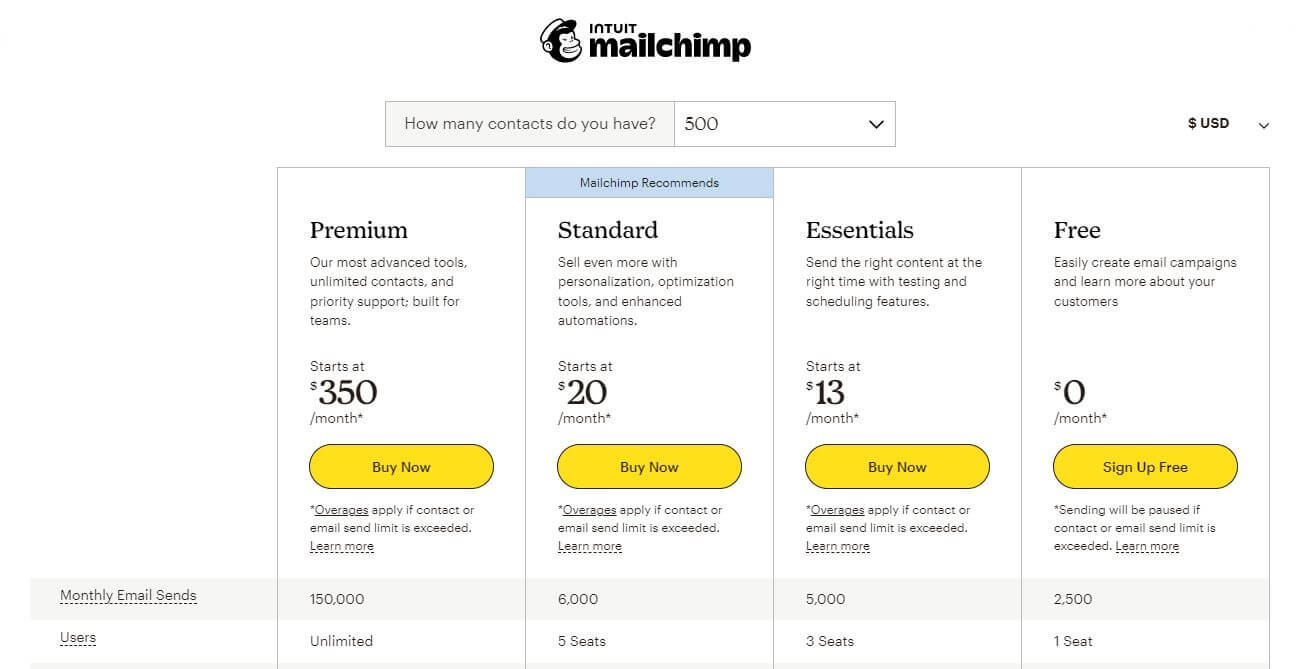 Create and send emails without knowing to code and you are easy to design and send your email marketing campaigns, newsletters, and automated emails. No daily sending limit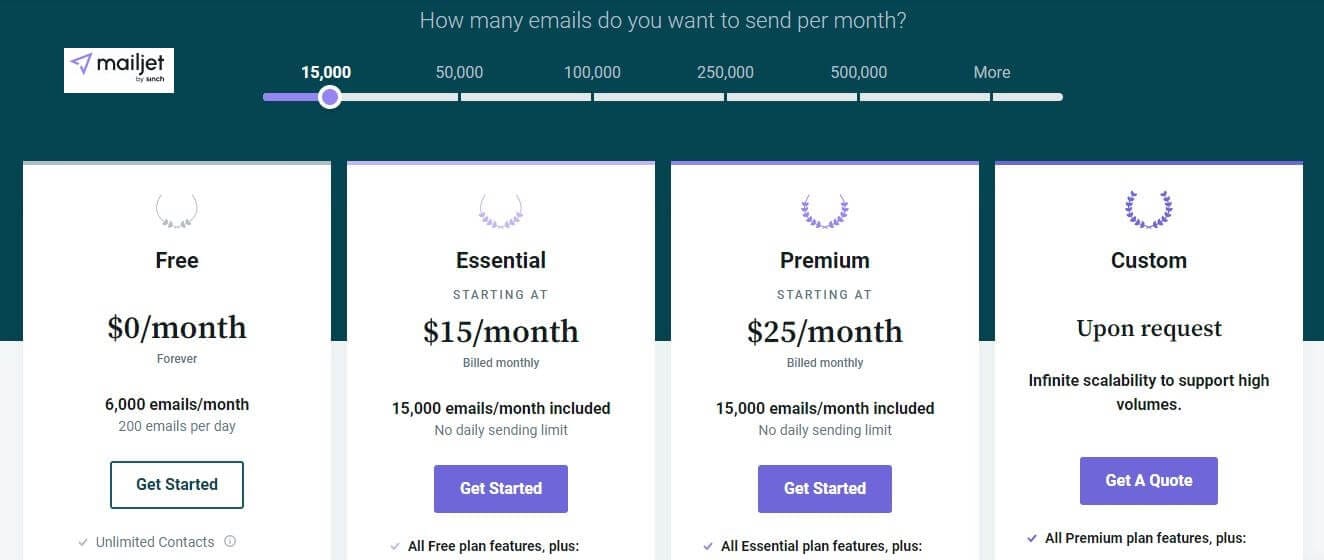 Mailgun enables you to send, receive, and track email effortlessly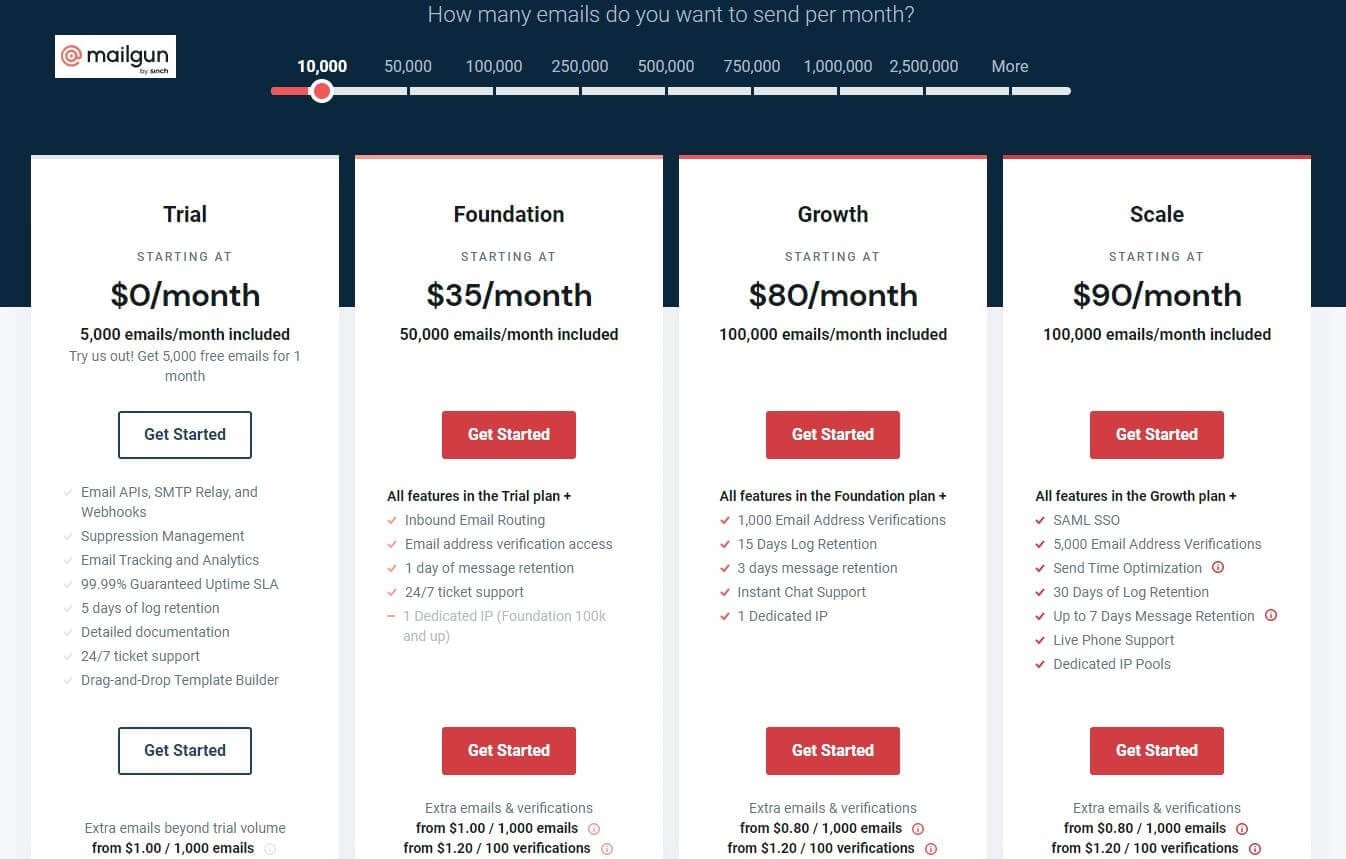 Free one Month
easy-to-use features make email marketing campaigns like a pro
Price is based on the of contact defined by Constant Contact. Therefore good to look pricing page here
Core
500 Contacts $9.99/month
Price based on the number of contacts
Plus
500 Contacts $45/month
Price based on the number of contacts
Email marketing, marketing automation, and CRM tools for digital marketing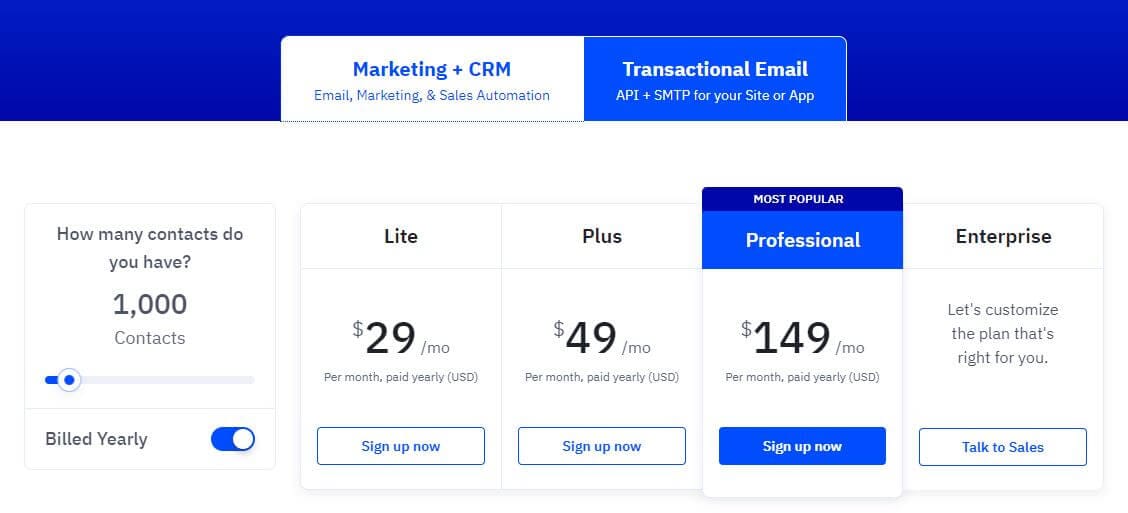 6. Getresponse
FREE Up to 500 contacts. tools to send emails, create pages and automate your marketing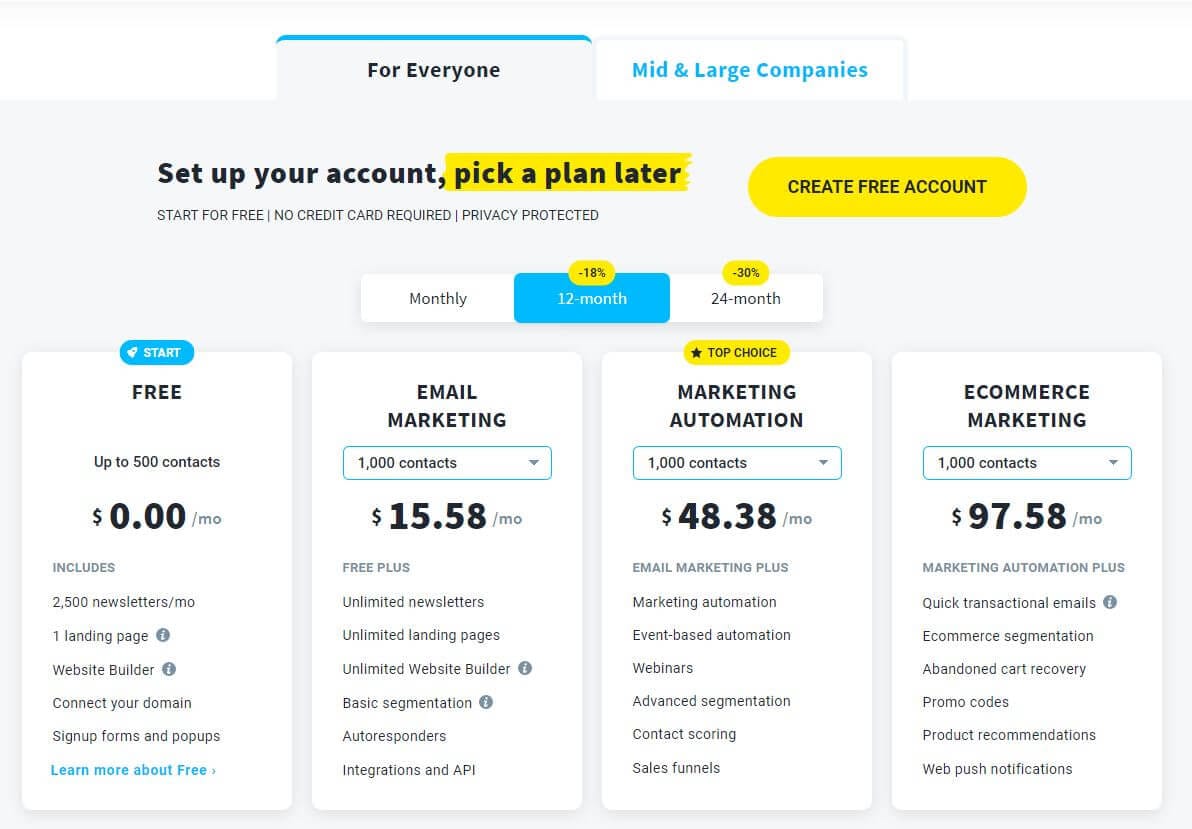 Is Sendinblue Good
If you already went through the Alternatives for Sendinblue then you realize how Sendinblue comparatively suits your requirements. According to my experience, Sendinblue has more than enough small business work. Let's check some points to say why is Sendinblue good?
By using CRM You can have a lot of contact lists compared to others.
The free plan supports a lot of features like campaigns, build workflow, templates, Automations
Price not according to the contact list size but with the email count that you plan to send
Free online statistics and reporting
Great value for what you get
References